Frank Sinatra's Tahoe Blues
by Mark McLaughlin
Tahoe Nugget #264: 2013
It's been 50 years since Frank Sinatra was forced out of his ownership of the North Shore's Cal-Neva Casino in late 1963, but that wasn't the legendary crooner's only problem in his troubled years at Lake Tahoe. Old Blue Eyes' questionable relationships with criminals, politicians, and celebrities made for some rough sailing during his reign at Tahoe.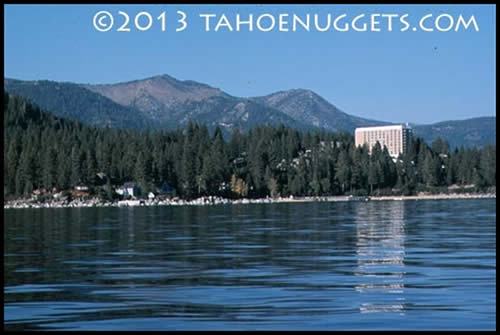 Frank Sinatra was a major partner at the Cal-Neva Lodge from 1960 to 1963. The casino, which straddles the California-Nevada state line, is currently closed for major renovations.
Sinatra's troublesome history at Lake Tahoe started in 1951 with an intense argument with his lover, Hollywood sex siren Ava Gardner. Both were on extended residencies in Reno, Nevada, to process divorces from their respective spouses so they could marry each other. Sinatra and Gardner spent Labor Day Weekend at the Cal-Neva drinking and gambling.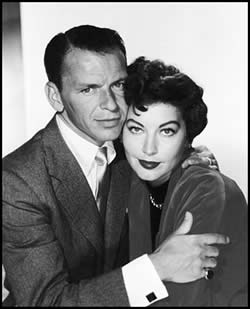 While enjoying a boat ride in Crystal Bay, Gardner revealed that she had had a recent affair with a co-star and Sinatra flew into a rage. His business manager who was driving the boat became so upset he ran the boat aground near the Cal-Neva pier, tearing a hole in the hull and sinking the boat. That night Sinatra was so despondent that he ingested an overdose of sleeping pills, but his valet called a physician who quite possibly saved Sinatra's life.
By all accounts Sinatra loved Ava Gardner passionately, but their relationship was a volatile one.
Marilyn Monroe Comes to Party
In late July 1962, actor and Rat Pack member Peter Lawford, along with his wife Patricia Kennedy, President John F. Kennedy's sister, invited Marilyn Monroe to party with them at the Cal-Neva Lodge. Monroe had been an occasional lover of Sinatra's and he used his private plane to fly her from Southern California to Tahoe. During the 1960 filming of "The Misfits" in western Nevada, Monroe had frequently visited Sinatra at Lake Tahoe and the couple's romance had blossomed.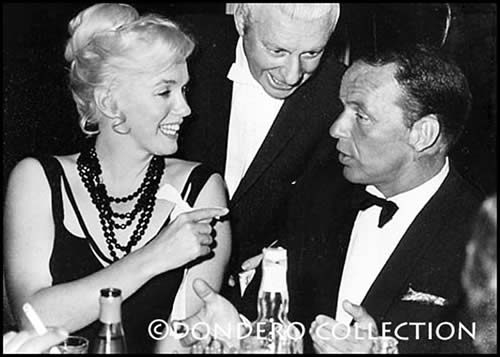 Marilyn Monroe and Frank Sinatra enjoying dinner together at the Cal-Neva.
Although the events of what actually happened at the Cal-Neva that July weekend are confusing and controversial (Monroe did meet with performer Dean Martin as well as her ex-husband, baseball great Joe DiMaggio), it would be the sex goddess' last visit to Big Blue.
Some accounts claim that Peter Lawford had told Monroe privately that her romantic relationships with the Kennedy brothers (President JFK and U.S. Attorney General Robert Kennedy) had been terminated.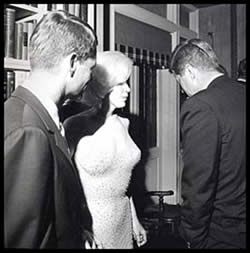 A week later Monroe was found dead in Los Angeles at the age of 36, a tragedy the coroner ruled as suicide but under mysterious circumstances. A half century later rumors persist that Monroe was killed because she had threatened to expose her sexual liaisons with the two Kennedy brothers. Stories about a sexual tryst between Marilyn Monroe and JFK at the Cal-Neva are unfounded.
Marilyn Monroe in better times with the Kennedy brothers.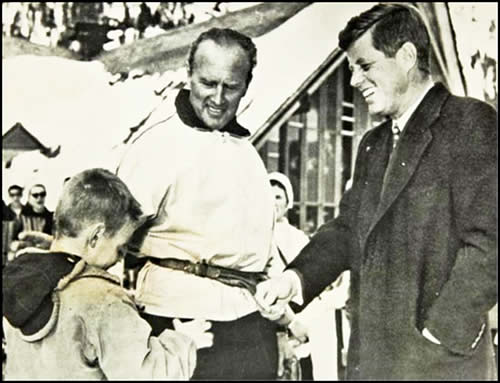 During his campaign for president, Kennedy flew into Reno and drove by himself to Squaw Valley on January 31 just a couple of weeks before the start of the 1960 Winter Olympics. This photo depicts JFK chatting with German-American ski champion Willy Schaeffler and his son Jimmy. (JFK's opponent, Vice President Richard Nixon, officially opened the Games on Feb. 18.)
Mob Connection
In August 1963 Nevada's Gaming Control Board accused Sinatra of allowing known mobster Sam Giancana to stay at one of the Cal-Neva cottages.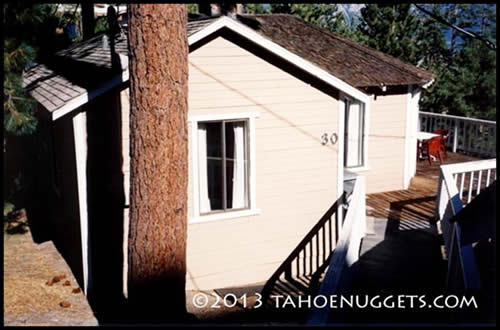 Cal-Neva cottage that gangster Giancana stayed as Sinatra's guest.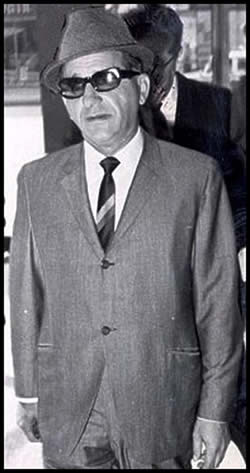 Permitting Giancana, a notorious Chicago hoodlum of national repute, to stay at his casino led Nevada's Gaming Commission to threaten Sinatra with revocation of his gaming licenses in the Silver State. Sinatra countered with his own threats of retribution, but the evidence was overwhelming and the "Chairman of the Board" surrendered his licenses in October 1963.
Sinatra's personal and business life had its ups and downs, but that autumn 50 years ago there was more trouble brewing. Less than a month after Sinatra lost control of his Nevada casinos his personal friend President Kennedy was shot and killed in Dallas, Texas, on November 22.
Frank Sinatra's close relationship with mobster Sam Giancana sank his hopes to operate Nevada casinos.
His Son is Kidnapped
The shock of the Kennedy assassination still lay heavy on Sinatra when on December 9 he received word that his son Frank Jr. had been kidnapped from Harrah's Lodge at South Lake Tahoe. Sinatra Jr., an aspiring singer, and John Foss, a trumpet player in the Tommy Dorsey Orchestra, were eating dinner when two parka-clad gunmen barged into their room.
They blindfolded the 19-year-old Sinatra, threw an overcoat over his shoulders and forced him into a white Chevrolet Impala. Once Foss worked himself free of his bonds he called the police. Officers from the nearby Zephyr Cove substation arrived within minutes while FBI agents from Reno quickly swarmed into the Tahoe Basin.
Sinatra, Sr. was at home in Palm Springs, California, when word arrived of his son's abduction. A snowstorm had shut down the South Lake Tahoe airport so he flew to Reno. After a failed attempt to drive to Tahoe over storm-swept Spooner Summit, Sinatra set up headquarters at Reno's Mapes Hotel. Roadblocks were thrown up on every highway in the region, but the criminals somehow managed to slip through the dragnet.
Sinatra had publicly offered one million dollars for the safe return of his son. Inexplicably, the kidnappers asked for only $200,000 in unmarked bills, which an FBI agent delivered to a location in West Los Angeles. Two hours later, Frank, Jr. was released by his captors. He had been held for 54 hours, but was unhurt. When the good news swept the nation, a still grieving Robert Kennedy called to congratulate the Sinatra family.