Robert Gerdel: Sierra Snow Scientist
by Mark McLaughlin
Tahoe Nugget #130: Jan. 20, 2008
The Sierra Nevada snowpack is without a doubt the Far West's most valuable natural resource—not for the economic benefit of winter sports, but because it supplies water runoff to California and western Nevada. The snowpack is a vital asset that provides high-quality melt-water to millions of people, as well as to industry, recreation, fisheries, agriculture and hydroelectric power generation.
In the early 1900s, Dr. James Church, a University of Nevada arts and classics professor, initiated the first systematic study of the snowpack in the Truckee-Tahoe region. Church pioneered the use of a hollow tube to extract snow cores in order to determine water content in the snowpack. Church's simple methodology is now one of several that hydrologists use to manage reservoir systems.
Dr. Church made many important contributions to our understanding of the Sierra snowpack, but he was not a trained scientist and could not delve into the highly complex physics inherent in this massive frozen reservoir. The first stage of this critical research began during World War II when a government physicist, Dr. Robert W. Gerdel, moved to Sacramento to establish the Central Sierra Snow Laboratory (CSSL) at Soda Springs, California, near Donner Pass.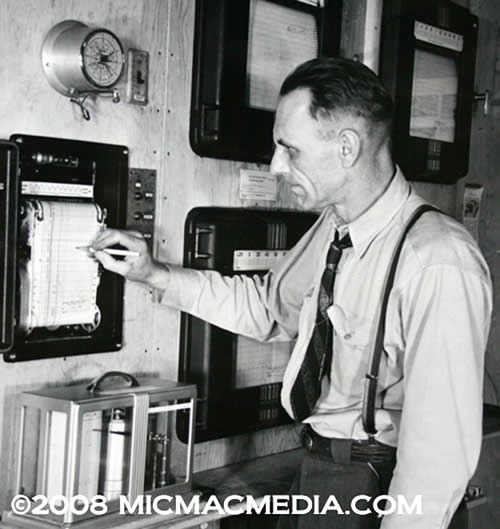 Dr. Robert Gerdel working in Sierra Snow Lab in 1946.
Snow Laboratories
In the early 1940s, Dr. Gerdel was the lead physicist at the U.S. Weather Bureau and Technical Director of the government's newly-formed Cooperative Snow Investigations Research Program (CSIRP). One of his first assignments was to design and supervise the construction of three national snow laboratories in the mountainous West. After considerable research, Gerdel decided to place the labs at three distinct locations: Central Oregon, Donner Pass, and near Glacier Park, Montana. The sites reflect three distinct winter-precipitation regimes; mostly rain with some snow, mostly snow with some rain, and exclusively snow, respectively.
Dr. Gerdel spent much of his adult life working on projects located in life-threatening climates, a remarkable career considering a serious disability. Robert Gerdel was born in St. Louis, Missouri, on October 4, 1901, and grew up in Michigan. When he was 12 years old, a botched surgical procedure left him clinically deaf. After a tonsillectomy performed by a country doctor on the family's kitchen table, an infection set in that permanently damaged Robert's ear canals. Losing your sense of hearing is a life-changing event, but Gerdel never let this physical handicap interfere with his plans to become a scientist. His high school principal tried to have him committed to the Michigan School for the Deaf, but Gerdel successfully persuaded the administrator to give him a chance. He learned to lip-read, checked the lecture notes of his fellow students, and graduated with good grades.
After high school, Gerdel attended Michigan State College of Agriculture and Applied Science (now Michigan State University) and graduated with a BS in Soil Physics and Chemistry. Not only was the coursework challenging, two of his college professors dropped him from their classes because he was deaf. In spite of the setbacks, Gerdel went on to earn masters and doctorate degrees from Ohio State University.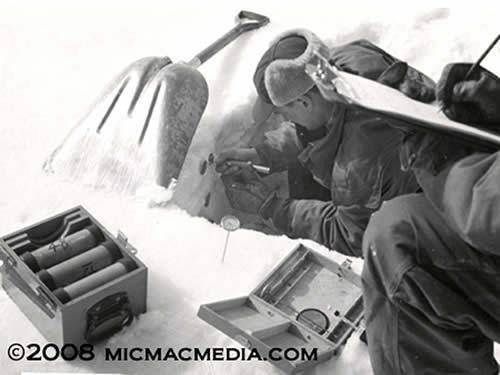 Dr. Gerdel and his crew often devised their own instruments to measure the snowpack. This device uses a spring-loaded disc to measure density.
In 1943, Dr. Gerdel and his wife and son moved to Sacramento where he designed the infrastructure of the snow laboratories. Gerdel next supervised the construction of the Donner Pass snow lab and installation of the new equipment. In addition to research on the Sierra snowpack, Gerdel and his staff worked on the development of the first over-snow mechanical vehicles. Gerdel later continued this work on the Greenland Ice Cap and in other polar regions.
Donner Summit Climate Study
The Donner Summit region of the Sierra proved to be a particularly well-suited area to launch the federal climate study. In addition to providing reliable conditions for studying the physics of a deep snowpack, the research conducted there allowed scientists and technicians to monitor snowfall and snowmelt and to predict future needs of the State's water delivery system, best known as the California aqueduct.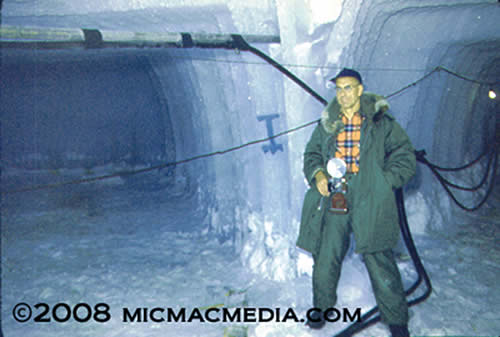 Dr. Gerdel in 1959 standing in the ice tunnels of Camp Century, a nuclear-powered, U.S. military installment buried under the Greenland Ice Cap that housed more than 200 people.
When Robert W. Gerdel died 21 years ago on March 27, 1987, at the age of 85, he left behind a legacy of accomplishments. Well-respected as a resourceful and professional physicist and engineer, Dr. Gerdel gained international recognition for his research work at snow hydrology laboratories in the U.S., Alaska and Greenland. Over the span of his career, Gerdel wrote more than 50 scientific papers that were published in technical and professional journals.
Dr. Gerdel's early efforts to investigate and improve our scientific understanding of the complexities of the vital Sierra snowpack laid the groundwork for a water management system that helped nourish and sustain the growth of California into a global economic giant.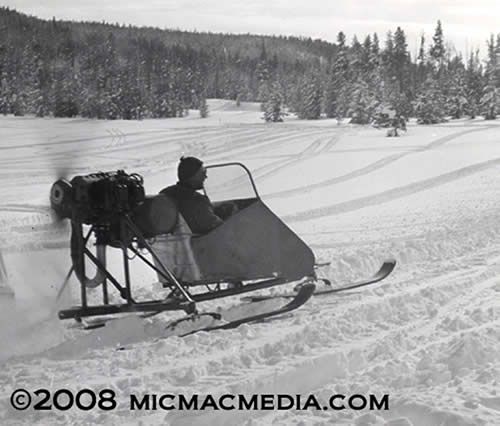 Early version of an over-snow vehicle, powered by a motorized propeller blade. Keep your hands in!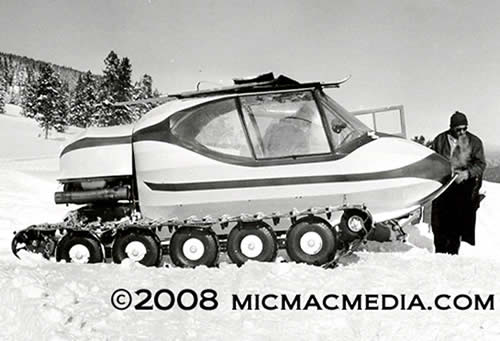 An early snow vehicle with a futuristic style.