Welcome to the Journal of Sierra Nevada History & Biography
David Kuchera and Jay Hester, Editors
Alonzo Delano: Nomad Denizen of the World
Welcome readers to another edition of Snowy Range Reflections: A Journal of the history and biography of the Sierra Nevada. If you have perused the pages of previous editions you know that we endeavor to fill our journals with numerous examples of the lore of the "Range of Light." Earlier issues have been jammed with accounts, narratives, anecdotes, pictorials, memoirs and even the occasional yarn and we recommend them all to you. This edition is different. We have chosen a single biographical sketch about an individual with a remarkable name and a nose just as remarkable.
Alonzo Delano: Nomad Denizen of the World came with the thousands who arrived in California during the gold rush Diaspora. Yet, Delano's gold became his writing and his affection for the town of Grass Valley, the city that might have died but for him.
This publication owes a great debt to its author, Gary Noy. Professor Noy is a member of the Sierra College history faculty and has taught with excellence from 1987 to present. A graduate of UC Berkeley and Sacramento State University, Gary Noy is also the current director of the Sierra College Center for Sierra Nevada Studies.
A published author, Gary Noy is also the editor with Rick Heide of the highly anticipated work, The Illuminated Landscape: A Sierra Nevada Anthology. The Illuminated Landscape is a sweeping collection of " poetry, reminiscences, essays and writings from the well known to original works by local authors all capturing the spirit and the true essence of the Sierra Nevada experience, as Noy writes:
"The Illuminated Landscape comes at a critical point. With the power of the written word to inspire, energize, and challenge, this anthology shines a light on what is at risk for the Sierra Nevada today and reinforces the importance of sustaining its beauty and ecological diversity."
Co-published by Heyday Books, Santa Clara University and the Sierra College Press, The Illuminated Landscape will be available in May 2010.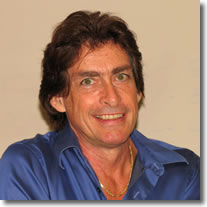 In this presentation we are proud to share with you Gary Noy's fascinating biographical sketch of the remarkable resident of old Grass Valley, Alonzo Delano: Nomad Denizen of the World.