Harry Johanson: Legendary Tahoe Lawman
by Mark McLaughlin
Tahoe Nugget #244: 2012
It was a sad day for the small community of Tahoe City in the spring of 1932. Citizens dressed in black were in the process of burying the town's first constable, the revered pioneer Robert Montgomery Watson.
Watson had arrived at Lake Tahoe in the 1870s and was appointed Tahoe City's first constable in 1906. Constable Watson served his community until 1932 when he died of pneumonia at the age of 80.
When Harry E. Johanson rode into town on that fateful April day, he observed a somber funeral procession and Watson's casket being drawn across the snow-covered meadow towards the Tahoe City Cemetery. Businesses were closed and school bells tolled.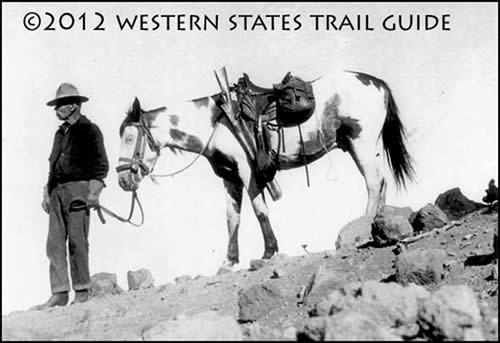 First Tahoe City constable, Robert Montgomery Watson, was a noted horseman who helped re-open and mark the old Emigrant Road over Squaw Valley. Today it is known as the Western States Trail and site of a 100-mile-long horse race and also a world-famous ultra endurance foot race of similar length.
An Athletic Youth
Born in Sweden in 1899, Johanson had demonstrated exceptional youthful athleticism by taking top honors in many skiing, swimming and long distance running competitions. He ended up winning a total of 84 medals and trophies, including a third place finish just behind future Finnish Olympic gold medalist Paavo Nurmi.
Johanson studied architectural drafting at the University of Upsala and after graduation he joined the Swedish Army Air Corp. In his late 30s, Harry decided to immigrate to the United States, but the quotas were full and instead he sailed for Canada. He took on a variety of jobs as he worked his way west, traveling the wilds of northern Canada to hunt, fish, and compete in sporting events like long distance swimming contests.
The versatile Swede eventually became an officer with the Royal Canadian Mounted Police. While serving three years with the "Mounties" he learned horsemanship and dog sledding, skills that would serve him well at Lake Tahoe.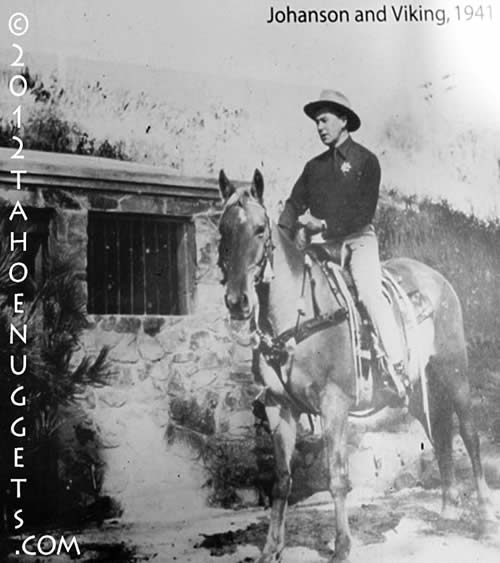 Like his predecessor Constable Watson, Harry Johanson was an accomplished horeseman.
Finally Johanson received the long-awaited paperwork that allowed him to legally enter the United States and he briefly worked as a draftsman in the sweltering Imperial Valley of Southern California. It didn't take long for the Scandinavian-born, back-country expert to decide that it was the upper elevations of the Sierra Nevada where he would feel most at home.
Lake Tahoe Was a Place to Stay
Johanson came to Lake Tahoe to take a caretaker position at a West Shore estate. He didn't expect to permanently settle in Tahoe City for long, but once he saw the stunning scenery decided to stay. Residents found the newcomer polite and well-versed in the skills necessary for travel and survival in a snowbound environment.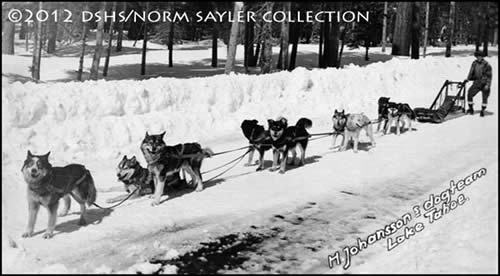 During Tahoe's long, snowy winters, dog sled was a better form of transportation than cross-country skiing. In addition, sled dogs could also pull the injured or ill to safety.
In late 1934, he received his citizenship and shortly after became Tahoe City's second constable. It soon became apparent, however, that "Harry Jo" as locals liked to call him, would be much different than Robert Watson. Watson was known as a quiet, reserved family man; Johanson was a confirmed bachelor with a flamboyant personality that defined him as a confident, self-made man.
Despite a well-deserved reputation as a "ladies man," Harry Johanson always said he preferred dogs to women. Photo courtesy North Lake Tahoe Historical Society.

Harry Jo covered his beat of 200 square miles by horseback in summer and dogsled in winter. Harry loved dogs. One of his favorite quotes was "A man's best friend is his dog, better even than his wife." Johanson kept up to 15 dogs at a time, most them malamutes, to pull his sled. Despite heavy winter storms that buried the region in deep snow, Harry made his rounds checking on year-round residents. Blessed with incredible endurance and an expert on cross-country skis, in 1937 he circled Lake Tahoe in one day.
Hollywood Comes to Tahoe
During the 1930s, Hollywood directors filmed many of that era's adventure movies at Lake Tahoe, including such epics as "Call of the Wild" (Harry stood in for Clark Gable), "White Fang," and "Rose Marie."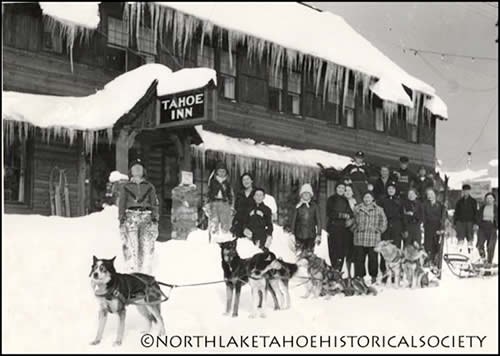 Johanson's dog sled team always drew a crowd.
Harry Jo preferred the devoted companionship of his dogs over any commitment to a woman, but the handsome constable with wavy blond hair certainly enjoyed the "fairer sex." His brief marriage to local schoolteacher Dorothy Zaharias produced a child, but Harry argued that he was not the father and she angrily left town with the baby. Afterward, Harry said, "The more I see of women, the more I love my dogs."
Despite his well-publicized sentiments regarding marriage and women, he nevertheless flirted with many of the eligible females in Tahoe City, always wearing his dashing uniform and service revolver, even while drinking in the local taverns. Harry was a bit short in height and often wore lifters in his shoes, but he still charmed the ladies. Rumor has it that the beautiful actress, Jeanette MacDonald, star in "Rose Marie," was one of his conquests.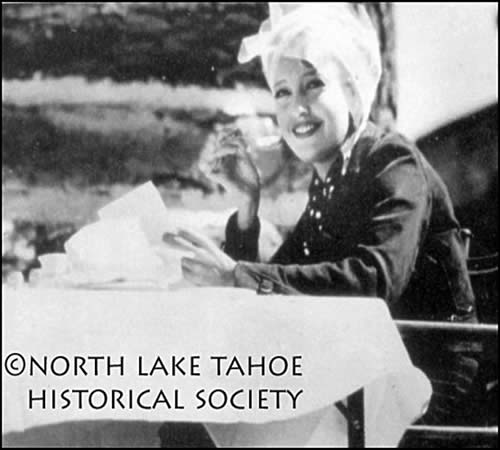 The beautiful actress Jeanette MacDonald starred in the movie "Rose Marie" filmed at Lake Tahoe in 1936. Legend has it that Harry Johanson (who did stunt work for her co-star Nelson Eddy) successfully seduced MacDonald during her stay at the lake.
Law Enforcement and More
Constable Johanson played an active role in regional law enforcement, not only capturing crooks (once nabbing a murder suspect in Tahoe City), but also in confiscating slot machines and shutting down local gambling operations. Johanson wore other hats too, simultaneously performing the duties of deputy sheriff, deputy tax collector, and deputy coroner.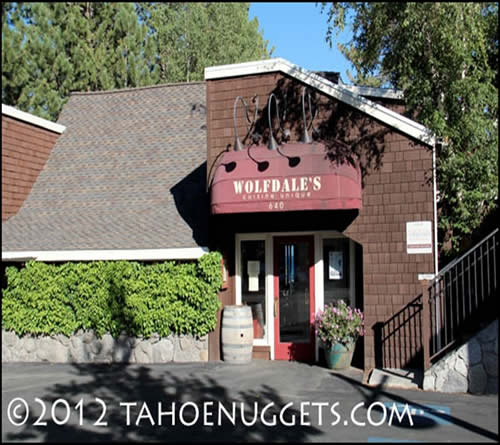 Harry Johanson lived in the house that is now Wolfdale's Cusine Unique restaurant on the main street in Tahoe City. This structure was originally built in Glenbrook, Nevada (near South Lake Tahoe) and towed across the lake to Tahoe City. In July 2012 a few of Johanson's relatives visited the restaurant and owner/chef Douglas Dale gave them a tour of the building and showed them the jail Johanson designed.
Tahoe City was such a tiny community back then, when Harry bought his house, some locals complained about why he lived so far out of town.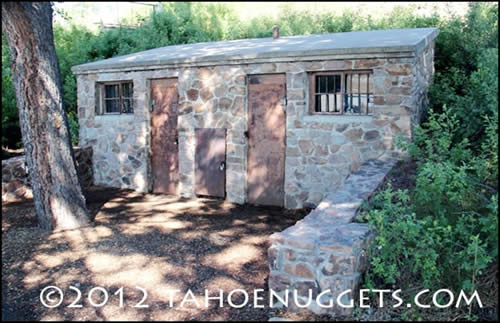 As a trained architect, Johanson designed this "new" jail located on Tahoe City's Commons Beach. The old jail was a dank, concrete bunker built nearby.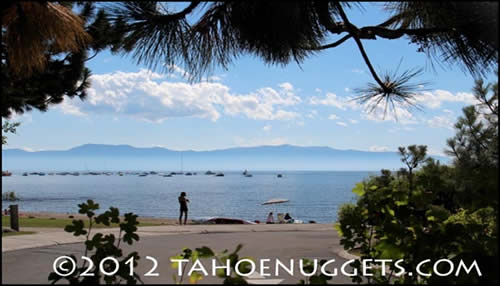 Prisoners' view from Johanson's Tahoe City jail.
After 32 years of service to his community, Johanson resigned in 1967. More than 200 people attended his retirement dinner at Sunnyside Lodge. Harry Jo eventually moved to Reno and died in 1980, but was buried in Tahoe City's Trails End Cemetery, which he had renovated in the 1950s.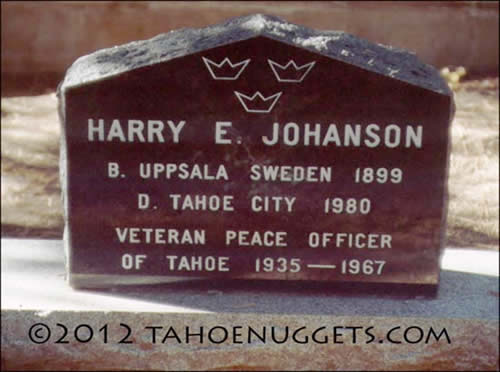 Special thanks to my friend Mickey Daniels — California's last constable; Captain of Big Mack II; and former roommate of Harry Johanson — for his stories and background information on Harry Jo.