2011 Lectures
Bank Swallows on the Sacramento River—Using GIS and GPS in Their Conservation
by Adam Henderson, CA Dept of Water Resources
Adam Henderson is a Staff Environmental Scientist with the Department of Water Resources Northern Region Office in Red Bluff, CA. Adam has worked on a variety of projects for DWR, including Bank Swallow survey methods and conservation issues, and currently is a member of the Bank Swallow Technical Advisory Committee (BANS-TAC). Most recently, Adam is working with the Department's climate change program.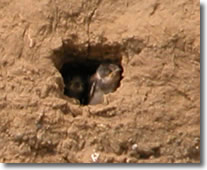 The Bank Swallow is a Threatened Species under the California Endangered Species Act. Over 70% of California's nesting population occurs on the banks of the Sacramento River and Feather Rivers. The fate of the Bank Swallow in California is intimately tied the physical fluvial processes on these alluvial river systems.
The audience will learn about the use of Geographic Information Systems (GIS) and Global Positioning Systems (GPS) to survey and monitor Bank Swallows annually, the current status of the species, physical river processes and river management on the Sacramento River, examples of using GIS in conservation planning for the Bank Swallow, and some thoughts on what California's changing climate means to these birds.
Megafish: Freshwater Giants
by Zeb Hogan, UNR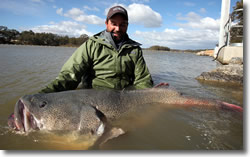 The Megafishes Project spans six continents. It focuses on the dwindling populations of megafish—freshwater fish that can grow to more than 220 pounds and more than 6.5 feet long.
Dr. Zeb Hogan is an assistant research professor at the University of Nevada-Reno, a National Geographic Emerging Explorer, and the United Nations Convention on Migratory Species Councilor for Fish. Zeb also hosts the National Geographic Television series "Monster Fish". Zeb received his Ph.D. in Ecology from the University of California, Davis in 2004. His research interests include migratory fish ecology, multi-species fisheries management, the population status of giant freshwater fish, endangered species issues and conservation genetics. Since 1996, Zeb has worked primarily in the lower Mekong River Basin. He has been studying the giant Mekong catfish (Pangasianodon gigas) and other large fish of the lower Mekong River, and has served as director of the Mekong Fish Conservation Project (MFCP).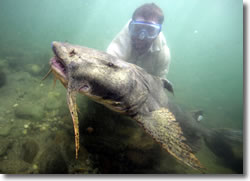 Through the MFCP and more recently through a new National Geographic-sponsored project "Megafishes," Zeb works to merge conservation science with conservation education and action. The project's outputs to date have included important contributions to understanding the migratory patterns and population structures of focal fish species; designation of the giant Mekong catfish as critically endangered on the IUCN Red List; awareness-raising through international media and local communications about the plight of endangered fish species; and the live release of numerous rare fish otherwise destined for fish markets. Zeb's recent articles include "Engaging Recreational Fishers in Management and Conservation: Global Case Studies" and "Size-biased extinction risk of the world's freshwater and marine fishes". Zeb's research has a lso been featured in Science (2007), Bioscience (2005), and American Scientist (2004).
You may have seen Zeb on his National Geographic Television program.
Carnivorous Plants: An Insect's Nightmare
by Dr. Barry Rice, Sierra College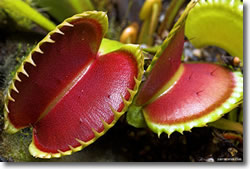 Not all plants are benign! More than 600 species around the world kill for their sustenance, and approximately a dozen of these murderers live in the western states of the USA. Dr. Barry Rice has been studying (and growing) these carnivorous plants for more than 20 years, and has travelled widely through the USA to see them. Let him lead you on a tour of the plants that eat meat, and learn how they are actually spectacular and beautiful. You can find out how they capture and digest animals, where you can see them (if you dare!), and even how to grow them. Plants will be on hand for viewing.
Dr. Rice is the founding Director of Conservation for the International Carnivorous Plant Society, and is also a Research Associate for the Center for Plant Diversity at the University of California. His books include Growing Carnivorous Plants (Timber Press, 2006) and Monster Plants (Scholastic Press, 2010). Dr. Rice is a professor of astronomy at Sierra College.
Dinosaur Day Science Fest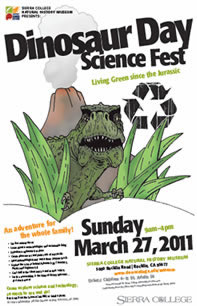 The Spirit of John Muir
by Lee Stetson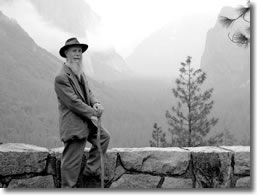 Renowned actor Lee Stetson returns with his fascinating one-man performance as California's most famous conservationist. "The Spirit of John Muir" is a memorable romp through the very best of Muir's thrilling adventures. His true, and amazing, encounters with avalanches, blizzards, earthquakes and ice crevasses are among the tales recounted—all presented with a liberal serving of Muir's wilderness philosophy.
This will be Lee's 19th annual performance. Lee was recently featured as the voice of John Muir in Ken Burns' The National Parks on PBS.
Our Fabulous Wildflowers
by Julie Carvill, naturalist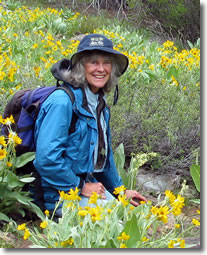 Through her images, Julie will take us on a journal among our local wildflowers, sharing fun stories about the lives of these exquisite beings, about their gifts to Native Americans and to all of us, and about the valuable lessons we can learn from nature.
Julie has been teaching about the natural world as a botanist, writer, photographer and naturalist for over 30 years. She is the author of Lingering in Tahoe's Wild Gardens (Hiking Tahoe's Wildflower Trails), a contributing author of California's Wild Gardens: A Living Legacy, the co-author/photographer of Wildflowers of Nevada and Placer Counties, California and the soon to be published Trees, Shrubs, and Woody Vines of Nevada and Placer Counties, California. Her writing and photography has also appeared in various newspapers and magazines, including the Sacramento Bee, the San Francisco Chronicle, and Sierra Heritage Magazine. Julie is also involved with a variety of environmental organizations, including the Tahoe and Redbud Chapters of the California Native Plant Society and Wildflowers Forever.
Exploring Mt. Everest
by Michael Kane, Assoc. Dean, Sciences and Math, Sierra College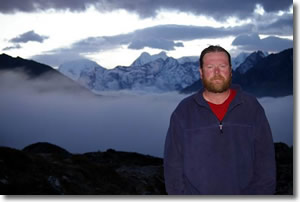 Michael Kane will be discussing 22 days spent trekking in the Khumbu Valley region of Nepal to Everest Base camp.
The talk will include photographs of the region, descriptions of Sherpa life and even a visit to the Khumjung Gompa to see a purported Yeti skull.


Adapt, Flee or Perish: Responses to Climate Change for California's Water Sector
by John Andrew, Asst. Deputy Director, California Dept. of Water Resources
John Andrew will describe the challenges posed by climate change for California's water supply, including a reduction in snowpack and annual runoff and shifts in seasonal timing. He will also address DWR's plans to address these challenges, such as investing in water use efficiencies and adapting water management infrastructure to accommodate the uncertainty that climate change poses.
John Andrew has over 20 years of experience in water resources and environmental engineering and is a licensed Civil Engineer in the state of California. He holds degrees in civil engineering and public policy from the University of California at Berkeley. In his role as Assistant Deputy Director for the Department of Water Resources, he oversees all of DWR's climate change activities.
Journey to the Plastic Vortex
by Dr. Margy Gassel, Biologist, California Office of Environmental Health Hazard Assessment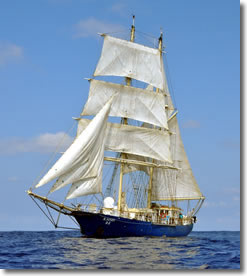 Biologist Margy Gassel, a researcher with a passion for ocean and marine life conservation, will share her experiences in the North Pacific gyre—the Great Pacific Garbage Patch—where tons of plastic trash collects. She will describe her research on the potential effects of ocean debris on ecological and human health and reflect on society's connection with and contributions to this global problem.
Gassel received her Ph.D. in biology from the University of California at Berkeley and is currently a research scientist for the California Environmental Protection Agency at the Office of Environmental Health Hazard Assessment in Oakland where she evaluates chemical contamination of fish and potential health risks for consumers. She has also worked with Project Kaisei, a non-profit organization focused on marine debris issues and has participated in many cruises at sea covering several areas of research, including primary productivity, invertebrate and fish populations, and humpback whale behavior.
Destination Madagascar: The Red Island
by Pamela Flick and Jeff Horn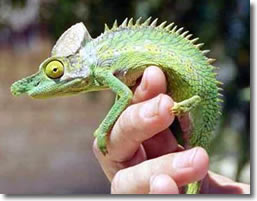 Take part in an exotic excursion without having to pack your passport! Join Sierra College alum Pamela Flick and her husband, Jeff Horn, on a virtual tour of the amazing and diverse island of Madagascar. They will retrace their month-long journey around the "Red Island" highlighting unique creatures great and small, incredible landscapes and conservation challenges of a developing nation rich in natural resources. Madagascar contains several World Heritage Sites and is considered a biodiversity hotspot, where more than 80% of its plant and animal species are found nowhere else on Earth.
Flick is the California Program Coordinator for Defenders of Wildlife and has more than 14 years of experience working in the environmental conservation field. Horn is the Lead Outdoor Recreation Planner for Bureau of Land Management's Mother Lode Field Office and a long-time amateur herpetologist. Together they own and operate The Panther Pad, which specializes in breeding high quality, captive-bred chameleons.
---