Lectures 2003
January 13
Oh Deer!
by Charles Dailey
Lecture in conjunction with his deer antler exhibit in the Ridley Gallery.
January 31
The Ecology and Conservation of Vernal Pools
by Carol Witham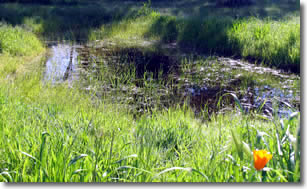 Vernal pools, unique to California and few other places in the world, were once widespread in the Central Valley, as were the wildflowers which characterize these intriguing habitats. Parched and virtually invisible during the summer, they spring forth with fascinating plants and microscopic animal life after the winter rains.
Join Carol Witham, editor of "Ecology, Conservation, and Management of Vernal Pool Ecosystems" for a slide-illustrated lecture on the distribution, ecology, unique flowers, and other organisms found in vernal pools. Learn how these ephemeral pools form and about their fragile existence. This photographic tour includes spectacular sites around the state. It will also highlight one of the finest remaining examples of vernal pool complexes in California—those threatened by the proposed UC Merced campus.
Carol Witham is a botanical consultant who works in California and Nevada, specializing in rare plants.
February 21
The Top of Africa: Mt. Kilimanjaro
by Joe and Lynn Medeiros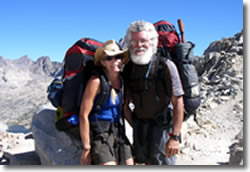 Winter in the tropics? You bet! On a daily (actually nightly) basis!
East African volcanoes, many towering over 16,000 feet above the sea, soar upwards from the arid but lush savanna below. At their bases these massive volcanoes support phenomenal ecosystems (from soda lakes to resplendent grasslands) upwards along their flanks that include rainforests, bamboo thickets, Hypericum forests, moorlands, heathlands, alpine deserts, and towering sub-alpine plants.
Above these lie a Lilliputian alpine flora and its attendant fauna, capped by permanent snow and ancient glaciers. This slide-illustrated presentation compares two such East African giants, Mt. Kenya (17,058') and Mt. Kilimanjaro (19,343'), from the beautiful peoples and fantastic wildlife that exists at their bases to the unique plants and animals that call these tropical-alpine ice-lands home.
March 28
The Fossils That Tell a Big Story: Contributions of Microfossils to Ocean History and Exploration
By Dr. Alex Amigo
Many of the answers to the history and processes of our planet have come from the oceans. Examples of this include our current understanding of global plate tectonics and of past climates. Much of this information was obtained through the study of microscopic fossils found in ocean floor muds.
As a participant in the scientific team of the Ocean Drilling Program, Dr. Alex Amigo studied oceanic microfossils dating as far back as 65 million years. He then studied their development, changes, and implications on seawater conditions from that ancient time through to the present.
Dr. Amigo was part of the Ocean Drilling Program team at the University of Florida, where he received his Ph.D. and did postdoctoral work. He is Professor of Geology at Sierra College.
April 25
The Spirit of John Muir
by Lee Stetson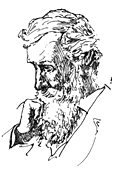 In celebration of the 2003 Earth Day, professional actor, Lee Stetson, returns to perform one of his famous one-man plays on the life of conservationist, John Muir.
The Spirit of John Muir is a fun romp through some of the very best of Muir's grand, thrilling adventures in his beloved western wilderness. The Perilous Night on Mount Shasta—with Muir freezing in the midst of a howling blizzard while simultaneously being boiled and blistered in hot springs, his astonishing ride down a Yosemite Valley canyon wall on a snow avalanche; and climbing the 500' wall of the winter ice cone beneath the Yosemite Fall are only a few of the—and true—adventures. They also include Muir's encounters with a mighty Yosemite earthquake, dangerous Alaskan ice crevasses, snow blindness, and much more—all liberally salted with Muir's wilderness philosophy. This show's theme revolves around the health and invigoration one acquires when one fully and joyfully engages wildness.
May 16
Sudden Oak Death
by Shannon Lynch
Since 1995, thousands of Tanoak, Coast live oak, Black oak, and Shreve oak have been dying due to a rapid and mysterious disease. By 1999 the fungal pathogen responsible for this mortality, Phytophthora ramorum, was finally identified. Although it is known to kill only oaks and their close relatives, it is also able to infect and weaken 17 different horticultural plants and forest tree species, including the Coastal redwood and the Douglas-fir. The distribution of this disease is presently known from 12 California counties, but its potential habitat expands to at least 15 million acres in California. Still, very little is known about the pathogen, including where it came from, how far it has spread, and its natural history. To most Californians who love oaks, this information is grim.
Join graduate student Shannon Lynch for an update on this important plant disease. Formerly a student in biology at Sierra College, Shannon graduated from UC Berkeley and now works for Professor Dave Rizzo in the Plant Pathology Department. She will expand on some of the issues about the disease and will shed some light on what we can do to make the fate of our California forests more promising.
September 26
Ayacara and Chile's Patagonian Rainforests

by Richard Vercoe
In 1978 a prominent Chilean family purchased the Huequi Peninsula in southern Chile as a sanctuary. As one of the few coastal temperate rainforest of the world, it was highly sought for its timber and minerals. The Ayacara Foundation was established for multiple reasons: to protect this spectacular bioregion and to practice sustainable industry as a model for other Chilean communities. Today, the preserve and foundation conducts an eco-tourism operation, a laboratory for testing and manufacturing high-quality woods, a training center for sustainable construction, wood-making, and textile skills, and numerous biological and anthropological research projects.
Richard Vercoe is a graduate of Sierra College and UC Davis and now is Director of Development for Ayacara.
October 24
Hetch Hetchy Valley: Yosemite's Lost Twin

by Ron Good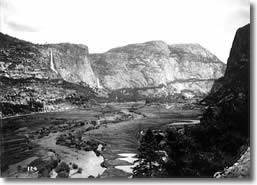 In 1870 John Muir made his first visit to Hetch Hetchy Valley. He described it as "a grand landscape garden, one of nature's rarest and most precious mountain mansions." After a long battle to save it, the Raker Act (1913) dealt a crushing blow to Muir and fellow nature lovers. Yosemite's Hetch Hetchy was to be dammed; drowned and harnessed for San Francisco's personal water and electricity.
Hetch Hetchy, the name thought derived from an Ahwahneeche phrase meaning "grassy floor," was a broad, glacier-carved canyon, with steep granite walls and luxuriant waterfalls; considered a twin of the famous Yosemite Valley. While the idea of constructing a man-made dam in Yosemite seemed preposterous, and contrary to the purpose of the national parks, this mountain treasure was removed from public enjoyment forever-or was it?
Ron Good is Executive Director of Restore Hetch Hetchy. His slide and video program describes the natural history of this remarkable place and the debate to dam it…as well as current efforts to restore it.
November 21
Tracking the Tasmanian Tiger

by Guy VanCleave
To Guy VanCleave, nothing would be more thrilling than meeting a thylacine in the dark forests of Tasmania. The true story of this legendary "marsupial wolf" or "Tasmanian tiger"represents a tragic extinction of one of Earth's great creatures—an extinction that could have been avoided, and a true loss for humanity. Lost was a highly evolved creature with millions of years of finely-tuned skills; intelligence and behavior begging for human communication. The thylacinids—one as large as a lion—represent a line of marsupial carnivores that evolved in Australia; the last survivors, the "Tasmanian tigers" were hunted to extinction.
Guy VanCleave is professor of zoology at Modesto Junior College. His numerous expeditions to Australia left him with a desire to follow the enigmatic tracks of the thylacine. Countless treks, visits to museums, towns, and pubs reminded VanCleave that the thylacine tracks are still warm.
December 12
A Himalayan Odyssey

by Dr. Ed Weiss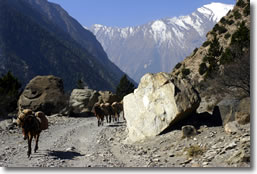 Ten days after 9/11 on the third plane allowed to leave the U.S., Ed Weiss traveled to Nepal to join nine other Americans to participate in a philanthropic trek to some of Nepal's most remote villages. The purpose of the trip was to provide medical care and to help remodel a school. Nearly 150 locals helped carry dental and medical equipment into the mountains from Kathmandu to Shertung, Dhunche and Tipling. Three men, two with only flip-flops on their feet and one without shoes, loaded the volunteers' three 160-pound generators on their backs, held with straps around their heads, and walked for days, over a 13,000 foot pass, to get to these remote villages. While exotic travel is nothing new for Weiss, these Himalayan villages, their remarkable scenery, and their beautiful, graceful people captured his heart.
An Auburn dentist, Weiss works along with others in the Flying Doctors, a group traveling to Mexico and elsewhere to offer free health care to the poor. His video presentation will set the stage for a description of this remarkable journey among the mountains, the wildlife and the people of the Himalaya.
---