Lectures 2004
January 30
Salmon in Our Streams

by Gregg Bates, Dry Creek Conservancy
Not that long ago early Californians living in the Great Valley feasted their eyes as well as their appetites on plentiful supplies of salmon and steelhead trout. Four distinct runs of Chinook (King) salmon occupied the seasonal variations of waters within the Sacramento and the San Joaquin River systems. Beginning with hydraulic mining, and then later with deforestation, dams, pollution, development, and water diversions, these rich aquatic resources dwindled—almost disappearing from the valley's landscape. Currently, populations of salmon and steelhead fluctuate; teetering on the brink of extinction.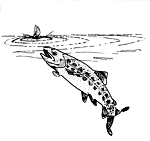 Yet nature is resilient and we continue to be surprised by the occasional comeback of salmon in our streams. Sierra College is privileged to be situated along Secret Ravine—which joins Miner's Ravine, Linda, Cirby, and Antelope Creeks, and so many other small tributaries as they jointly form the watershed of Dry Creek—which finally empties into the Sacramento, along side the American River at Discovery Park. Somehow, both salmon and steelhead continue to find their way into this historic watershed; giving us hope and inspiration for aquatic restoration.
Join Dry Creek Conservancy Executive Director, Gregg Bates, as he illustrates the trials and status of such anadromous fishes, the problems associated with their populations, the efforts for their conservation, and the future of this living natural history of our past. The Dry Creek Conservancy is a non-profit organization, partly funded by restoration grants, that is dedicated to the environmental health of it's namesake watershed. Numerous opportunities are available for volunteers to become trained to observe, monitor, and restore the vitality of this important system—a rare reminder of our rich natural past.
February 27
The Natural History of Bats

by Susan Ramones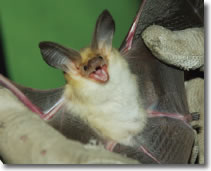 Do they really try to nest in your hair? Do they really suck blood? Are they actually blind? Are they really just mice with wings? Do they all carry rabies? Bats are a group of organisms swirling in myths and misnomers; but the truth about bats is as amazing as some of the myths. There are almost 1000 different species of bats, accounting for ¼ of all the described mammal species. They are found in almost every habitat in the world and their life history strategies are as variable as the many habitats they occupy, ranging from the larger fruit eating "flying-foxes" to our smaller local insect eating bats.
Join Sierra College biologist, Susan Ramones, as she introduces you to the amazing world of bats. She will discuss the basic biology of this fascinating group of organisms and demonstrate several of the technologies used by bat biologists to study these organisms. Susan has been studying and teaching about bats for the past seven years including her masters research on the Pallid bat.
March 26
The Andes

by Dick Hilton and Joe Medeiros
Nearly 25 years ago they nervously took their first trip together into South America and the Andes. In subsequent years, they have made numerous trips and have explored this phenomenal mountain range from Columbia to the Straits of Magellan. In Columbia, Ecuador, Peru, and Chile they explored ecosystems from the Atacama, the world's driest desert to some of the wettest rainforests of the Amazon basin. Like an elongated and narrowed California, this dramatic cordilleran system has captivated endless explorers—seeking everything from exotic plants to unique fossils—not to mention its unforgettable landscapes. Giant Araucarias tower in the Sierra-like mountains above central Chile. Alerce trees, the size of Sequoias and the age of Bristlecones thrive in the temperate Valdivian rainforests. Condors and guanacos abound in glacier-filled fiords.
Join two of Sierra College's science faculty as they present twenty-five years of tales and photographic images of "the other Sierra," the Andes.
April 23
Conversation with a Tramp: An Evening with John Muir

by Lee Stetson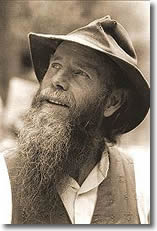 This stirring production has been presented every summer in Yosemite National Park—and throughout the country and around the world as well—since 1983. It depicts Muir's last dramatic battle to preserve the beautiful Hetch Hetchy Valley, part of our National Park, but threatened by San Francisco's desire to construct a dam there, drowning it hundreds of feet deep.
Audience members are his guests as they await final word of the Hetch Hetchy's fate from Washington decision makers. While waiting, Muir's righteous anger at the 'temple destroyers' is tempered by his hearty good humor, and his relating of a number of his most extraordinary wilderness adventures, including his remarkable 'tree ride' in a Sierra windstorm. A fine introduction to both Muir the man and his profound love of wildness, this show is often sponsored by organizations defending their own environment.
May 21
What a Great Planet!

by Dick Hilton and Joe Medeiros
Dick and Joe have always thought that they were lucky to be born on this planet (and at a time when exploration was relatively easy). With a combined 80 years of traipsing around its rocky and wooded surfaces, they have combed it from its far north to near its south pole, always in search of the same things: neat stuff—volcanoes, glaciers, plants, forests, deserts, critters, rocks, fossils—all things that make life exciting. Forever in search of the answers to life's questions, their travels have spanned Earth's continents and enabled them to see and experience nature to its fullest. Join two of Sierra's science faculty in an evening of "dueling photographs," taken over the decades during their travels (together and separately). Neither will know which photo will emerge next as they alternate showing their favorite images to the museum audience—describing how fascinating that creature, or that geologic formation, or that "whatever" was.
Join them as they wander from Alaska to Africa and from the Galapagos to Australia. Convinced that the study of natural history keeps life full of interest and surprises, they're also convinced that by sharing their enthusiasm, others will want to protect this outstanding planet we call home.
October 8
African Origins: Exploring Human Evolution in Ethiopia

Dr. Tim White, UC Berkeley
Even before beginning his college career in Southern California, Tim White has had an insatiable curiosity regarding evolution, especially that of our own species. For more than 20 years his professional and academic research has taken him throughout the world, especially Europe and East Africa. He holds a faculty position in the Department of Integrative Biology, and a research position with the Laboratory for Human Evolutionary Studies, both at the University of California, Berkeley.
For the last twenty years a large team of geologists, archaeologists, and paleontologists have converged at the Middle Awash study area in Ethiopia. The results of this extensive research establish this area as the longest hominid-inhabited geographic locale anywhere on Earth. Sediments more than one-half mile in thickness reveal a variety of fossil hominids along with a long record of technological development. Approximately 14,000 fossil vertebrate specimens were collected including the remains of the newly recognized hominids (Ardipithecus kadabba, Ar. ramidus, Australopithecus garhi, and Homo sapiens idaltu). The Middle Awash record and its contents therefore witness nearly six million years of hominid evolution and technological development.
U.C. Berkeley Professor Tim White has co-led the Middle Awash research project in Ethiopia for over twenty years.
October 29
Minerals as Medicine

by Dr. Jean DeMouthe
While most consider minerals as simply geological curiosities, others find them as rich economic resources as well as artistic specimens. Yet, there exists another, very significant aspect of earth's dazzling display of inorganic wonders—medicine! Dr. Jean DeMouthe is Senior Collections Manager for Geology at the California Academy of Sciences in San Francisco. Her intriguing story includes historical and modern uses of minerals in all sorts of medicinal ways; everything from ground-up rocks taken internally to talismans used to ward off toe fungus! Her photographs will illustrate natural and worked specimens of many of the minerals that have been used over the centuries to fight everything from depression to diseases of the liver.
This collection is temporarily on display at the University of California, San Francisco Medical School. Dr. DeMouthe has also been instrumental in arranging temporary loans to our museum from Cal Academy, including casts of a Tyrannosaurus rex skull, a 22 foot-long ichthyosaur from Nevada, a theropod footprint, a basilosaurus (early whale), and others.
November 19
Winged Migration: A Monarch Story

by John Lane
The Monarch butterfly, like no other, has captivated the interest of professional and novice alike for more than one hundred years. This boldly marked beauty, truly a butterfly beyond borders, steals the show with its annual two-way migration on the North American continent. Their full-circle route involves a sequence of individual butterfly generations, spanning huge distances, from Canada to Mexico, involving several generations. The Monarch is an endless supply of intrigue. Toxins (cardiac glycosides) that move from milkweed plants through caterpillars and butterflies, and eventually to predators has been the focus of extensive scientific interest and research.
The ecology, genetics, evolution, and migration of this enchanting insect supply endless research potential. Beyond the genuine fascination of the general public, this butterfly remains an important target of many, varied scientific lines of research.
John Lane's expertise in western butterflies began more than 45 years ago; and his continuous study of monarchs in 1978. His research, consultations, teaching, and trip leading make him one of California's leading authorities on the history and study of the California Monarch. He has worked closely with the World Wildlife Fund, California Fish and Game and the Xerces Society, and has been an invited lecturer at a number of international Monarch conferences in the U.S. and Mexico.
December 3
A Celebration of Raptors
by John Hendrickson
John Hendrickson has published thousands of images in books, magazines, calendars, posters, and note cards. His award winning photographs have been exhibited in over forty of America's major museums. His photos have been published in National Geographic, Sierra Club, Time-Life, National Wildlife, Audubon, Newsweek, Nature Conservancy, and Outdoor Photographer. He has illustrated and authored several books, and has many front covers to his credit. John is an extremely dedicated and patient photographer, willing to spend days working on a single photograph.
His photographic presentation for the museum, a visual celebration of raptors, is an exploration of these magnificent California birds, their adaptations, ecology and conservation. John also runs and teaches at the Woodleaf Outdoor School (Northeast of Marysville), the Radin Raptor Center and the Kestrels Across America Program.
This program is co-sponsored by the Sierra Foothills Audubon Society.
---