February 25
Medicinal Plants of the Sierra Nevada

by Monique Kolster
What do yerba santa, cottonwood, silktassle, and manzanita have in common? These native California plants, while unrelated, fall into a single category when considered for human utilization—medicine! Join Mo Kolster for an interactive evening as she shares her knowledge and experience with a number of medicinal plants from the Sierra Nevada. Learn about some of the more often used and even the some obscure uses of our more common plants—first aid, cold and flu remedies, plant preparation and harvesting, and contraindications. Sample some tinctures, teas, and plants first hand!
After completing her Master's Degree at the University of Montana, Missoula (where she worked with Echinacea) Mo continued her formal education in herbal medicine.
March 18
Plants in the Fossil Record: Links to the Past

by Walt Wright, Paleobotanist
Most of today's plants bear little resemblance to those that emerged on land more than 450 million years ago. While they began earlier, the first fossil plants are found in the Silurian of the early-Paleozoic Era. From primitive moss-like plants evolved large ones like horsetails and ferns, and eventually cycads, ginkgos, and conifers in the Mesozoic.
Many of these larger plants were woody enough to leave fossils—the focus of this presentation. Using photographs and fossils from his extensive plant collections, paleobotanist Walt Wright will review the evolution of the plant kingdom, with a focus on the petrified wood of ancient trees. Wright is a biologist and geologist, an educator and naturalist, and a highly-regarded west-coast paleobotanist. This evening's presentation will be followed by an extensive hands-on workshop (petrified wood identification), Saturday-Sunday, March 19-20.
April 22
John Muir in Among the Animals
Lee Stetson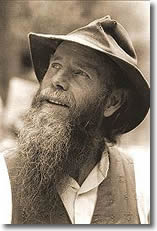 The icy storm story of a little dog named Stickeen is perhaps the most popular and most loved of John Muir's many adventures. This "funny, black, short-legged, bunchy-bodied, toy-dog", as he described Stickeen, gave Muir valuable insights into our kinship with all of the creatures humans share this good planet with—our "fellow mortals."
Among other stories in this amazing collection of animal tales, Muir chases a Yosemite bear, confronts coiled rattlesnakes, mourns the loss of the passenger pigeon, and tells of his hilarious encounters with sheep in the Yosemite high country.
May 6
Nature Noir
by Jordan Fisher Smith
Jordan Fisher Smith is the author of what the New York Times calls, "the eloquently meditative Nature Noir: A Park Ranger's Patrol in the Sierra. The Times' review goes on to say, "Smith relishes the physical detail, whether the subject is geology (the canyon chosen for the dam site was ''a Frankenstein's monster assembled out of bits of older stuff grave-robbed from dead landscapes elsewhere and sutured together at ragged, partially healed scars''), a cloud of migrating ladybugs, the unrelenting dust, or the little napkins that his fellow rangers place on their hoods to hold their doughnuts. His voice gains authority through its cadence and understatement."
Visit the book's website, www.naturenoir.com
May 8
Dinosaur Day
Lots of activities including a BBQ, cast painting, coloring, color sidewalk drawings, cookie painting, dinostore, face painting, fossil exploration sand box, fossil casting, and much more.

September 23