Lectures 2002
February 26
Children of the Camps: Healing the Wounds of Racism
by Dr. Satsuka Ina
Lecture in conjunction with Sierra College's Standing Guard project, which honors the 60th anniversary of the internment of Japanese-Americans during WWII.
March 15
The Life and Art of Chiura Obata
by Kimi Kodani Hill
Lecture in conjunction with Sierra College's Standing Guard project. Chiura Obata painted many Sierra Nevada scenes.
April 26
John Muir Among the Animals
by Lee Stetson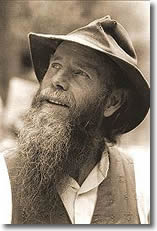 Muir's nearly disastrous "interview" with a Yosemite bear, his face-to-fang encounter with a rattlesnake, and hilarious stories of tending sheep—those "hoofed locusts" destroying the lovely meadows of the Yosemite High Country—are among the many stories in this very popular show. Also included is Muir's boyhood remembrance of the passenger pigeons, which dazzled him with their flocks of many millions filling the sky for days at a time.
In stark contrast, in Muir's old age, he is made aware of the single remaining pigeon named Martha, held captive at the Cincinnati Zoo. The basic themes here revolve around animal rights and the problem of extinction, but are largely served up with Muir's irrepressible humor. And Muir's deep understanding and love for the animal kingdom was never made more evident—or more educational—than his telling of his frightening adventure with a dog named Stickeen. This quaint little adventuresome animal, with whom Muir gets lost in a storm on an Alaskan glacier, provides us with one of the greatest dog stories of all time.
May 17
The Sagebrush Sea Floor
by Frank DeCourten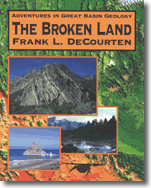 Sierra College Professor of geology, Frank DeCourten will discuss the Great Basin desert and its ancient, oceanic past. His recent book, The Broken Land surveys the geological phenomena of the magnificent Great Basin landscape of western Utah, Nevada, eastern California, and adjacent regions. Each chapter focuses on a locality or area that provides insight into the deep history of one of North America's most remote regions—one of its continental margins. It is the only book available covering the geology of the entire Great Basin. Frank DeCourten conveys awe at the story written in the rock of the basin.
September 27
Wilderness Protection Bill
Information about the legislation introduced by California Senator Barbara Boxer in May 2002. This lecture was done by staff from the California Wilderness Coalition in Davis, California. Tina Andolina and others described the regions of California to be included in the bill and the political difficulties getting such regions designated. If approved, designated lands would be added to California state and federal wilderness systems, primarily associated with national parks, national forests, and BLM lands.
November 1
John Muir's Last Journey
by Michael Branch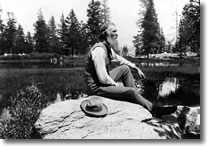 Dr. Michael Branch, professor Literature and Environment at University of Nevada, Reno will describe the late-in-life travels of California's famous conservationist, John Muir. After decades writing and promoting his beloved Sierra Nevada, Muir's interests extended well beyond—to Alaska, South America, Africa and the world as a whole. Muir's endurance and intellectual curiosity carried him into far fields of adventure even as he aged.
November 22
Fire in the Sierra Nevada Forest
by George Gruell
After a 150-years history of fire in the Sierra Nevada our perceptions and perspectives have caused great environmental and political concerns. Before aggressive fire suppression, fires thinned and maintained healthy ecological forest ecosystems.
Life-long wildlife biologist George Gruell examines our Sierra forests through historical photographs and modern retakes. Gruell asks citizens to study the photographic evidence before engaging in debates over prescribed fire, fuel buildup, logging and the management of our national forests.
December 6
Conifers of California
Dr. Ronald Lanner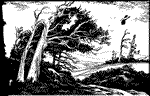 Forest researcher and professor at Utah State University, conifer specialist Ron Lanner discusses some of the more famous and other little-know species of conifers in California. Famous for his research on old trees (Bristlecones, Foxtails, etc.) and his work with co-dependent species (birds and pines), Dr. Lanner will present an illustrated lecture of many famous trees—oldest, largest, tallest, smallest and on. He is author of Conifers of California (Cachuma Press, 1999) and Made for Each Other, (Oxford University Press, 1996)
---