Lectures 2010
Sierra Snowstorms and the 1960 Squaw Valley Olympics
by Mark McLaughlin, Award-winning Sierra Nevada Weather & Cultural Historian
When Winter arrives in the Sierra Nevada, so does the snow—offering both delight and difficulty for the visitor and traveler. In this lecture, Mark McLaughlin will discuss the history of Sierra snowstorms, utilizing extensive research and historic imagery. And, on the occasion of the 50th Anniversary of the 1960 Winter Olympics at Squaw Valley, Mark will recount the fascinating story of this important sporting event.

Lake Tahoe historian Mark McLaughlin is an award-winning, nationally published author and photographer with six books and more than 500 articles in print. His most recent book, Longboards to Olympics: A Century of Tahoe Winter Sports, was published in January 2010.
Mark was educated as an historian and cultural geographer at the University of Nevada, Reno, and his work appears regularly in California and Nevada media; he has received the Nevada State Press award five times. Mark frequently writes historical articles for such magazines as Sierra Heritage, Wild West, Nevada, Skiing Heritage and Weatherwise. His work has also been published in the Reno News & Review, Issues in Science & Technology, and the Grolier Educational Science Annual encyclopedia.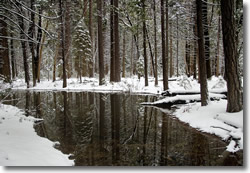 A professional and popular lecturer who has lived at North Lake Tahoe since 1978, McLaughlin teaches Sierra Nevada history using dramatic stories, slide shows and field trips. He is also a frequent guest on National Public Radio and has appeared on CNN, the History Channel and the Weather Channel.
Mark is the author of several prize-winning books, including The Donner Party: Weathering the Storm (2007). His entertaining and educational history books are available at local and regional bookstores or at www.thestormking.com. Mark is a member of the Editorial Advisory Board of the Sierra College Press.
This January 29 lecture is the annual Raymond A. Underhill Memorial Lecture. Underhill was the founder of the Sierra College Natural History Museum.
Feb. 26
Relics of Eden: The Powerful Evidence of Evolution in Human DNA
Dr. Daniel Fairbanks, Professor of Biology & Research Geneticist, Brigham Young University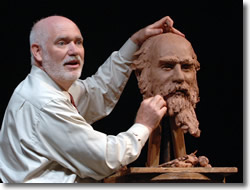 Fairbanks' lecture will be based upon his 2007 book Relics of Eden: The Powerful Evidence of Evolution in Human DNA, which examines the scientific evidence of our genetic heritage from ancient ancestors in Africa. Dr. Fairbanks urges individuals to put aside the pseudoscientific claims of Creationism and "intelligent design" and to abandon the either-or arguments of those opposed to the evidence.
Dr. Daniel J. Fairbanks is a Professor of Plant and Wildlife Sciences, research geneticist and former Dean of Undergraduate Education at Brigham Young University. He has been on the faculty at BYU since 1988. Fairbanks is the author of a widely-used college textbook entitled Genetics: The Continuity of Life. He has also taught at South Virginia University and in Brazil as a Fulbright Fellow.
Dr. Fairbanks is also a gifted sculptor and, during the lecture, will sculpt a bust of Charles Darwin while recounting some of the more fascinating details of our genetic heritage.
March 26
Natural History of Baja
by Steve James Professor of Biology & Marine Ecology, Sacramento City College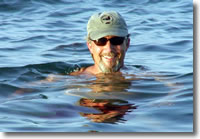 Steve James has been fascinated with Baja California and the Sea of Cortez since first journeying to the town of Bahia de Los Angeles as a student 33 years ago. Since that time he has visited the peninsula numerous times to discover its many wonders. Baja California offers unique and beautiful desert landscapes and mysterious canyon pictographs, while the Sea of Cortez brims with sea life. As Steve states: "Please join me in an informal talk as we walk amongst cardon cactus and the infamous boojum trees, swim with whale sharks, ponder the special sites where early Baja Californians left their mark on the land 5,000 years ago, and dream of an authentic fish taco!"
After falling in love with marine biology, Steve James initially worked as a teaching assistant for field courses in marine biology in Bahia de Los Angeles and the entire Baja peninsula. He has degrees in Environmental Studies. Biological Sciences and Conservation Biology from UC Santa Barbara and CSU Sacramento. Upon completion of his degree, James worked for environmental consulting firms before beginning his teaching career. Steve James is an instructor at Sacramento City College in Marine Biology, Environmental Biology, Environmental Regulations, and Natural History. He also has taught a number of field courses in Baja California, the Mojave Desert and Belize. He hopes to offer a field class to French Polynesia in the future.
April 23
"Conversation with a Tramp"
by Lee Stetson as John Muir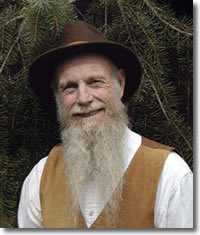 His 18th annual performance. Lee was recently featured as the voice of John Muir in Ken Burns' The National Parks on PBS.
World renowned actor Stetson of Yosemite will do another one-man play on the life of California's most famous conservationist, John Muir. The setting is Muir's home, awaiting the outcome of a twenty-five year battle for Hetch Hetchy Valley. That unique Yosemite-type valley is threatened with flooding by dam-builders and the City of San Francisco. As he waits, Muir describes his ride in a wind-storm atop a 100 foot fir tree, and his climb and near disaster alongside the Yosemite Falls. His final stirring defense on behalf of Hetch Hetchy is richly moving—and a fine model for environmental defense even today.
May 7
Why does Jane love Jack but not Jim?
by Keely Carroll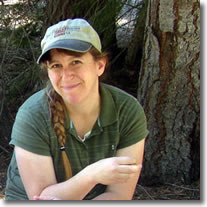 Sexual selection, the development of mating systems and how it affects the morphology of organisms.
Spring Native Plant Sale & Wildflower Show
The Redbud Chapter of the California Native Plant Society plant sale offers the largest selection of native plant material to be found anywhere in northern California, if not the entire state. Not only will you find the common species usually found at other plant sales, but the chapter always puts in that extra effort to find those popular, hard to find species and even a number of seldom seen species that appeal mainly to specialty collectors.
The second unique thing about our plant sale is the wildflower show associated with it. While wildflower shows, either in association with plant sales or as standalone events, are not uncommon occurrences in California in the spring, ours is the only one exclusively featuring living plants in containers rather than cut flowers. We generally have at least 150 living species in full flower.
September 24
The Polaris Project: Rising Stars in the Arctic
by Dr. Sudeep Chandra, Univ. of Nevada, Reno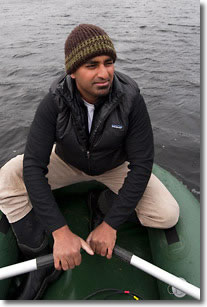 Dr. Sudeep Chandra is an Assistant Professor of Limnology at the University of Nevada, Reno. His talk will cover a broad range of topics including:
what the Polaris Project is and what they are learning in the Arctic
challenges society will face due to climate change
why Arctic ecosystems are so sensitive to changes in climate
how feedback from changes in the Arctic affects the entire globe
how climate may change our local Northern California lakes
how management actions may impact lake functions and
how society is responding to this information.
Dr. Chandra graduated in 2003 with a Ph.D. in ecology from the University of California–Davis. He enjoys working on projects that try to understand ecological production, recover native species, and predict the distribution of nonnative species. Recently he has been working with emerging democratic societies in Mongolia and Bhutan to manage natural resources and conserve the world's large freshwater fish.
Oct. 22
East Africa: A Glimpse of the Natural History of Kenya and Tanzania
by Dick Hilton, Shawna Martinez and Rebecca Gregg, Sierra College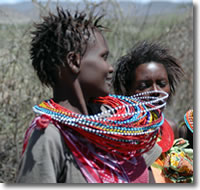 In May 2010 a group of friends and Sierra College staff—Rebecca Gregg, Shawna Martinez, and Dick and Kristin Hilton—met in Nairobi, Kenya to embark on a photographic wildlife safari through Kenya and Tanzania. The scenery and wildlife there are unmatched elsewhere in the world. With the combined expertise of a photographer, a geologist, a botanist and an expert in birds, this program will take you to Abedare, Samburu and Amboseli National Parks in Kenya as well as Ngorongoro, Oldupai Gorge and Serengeti National Park in Tanzania.
Shawna Martinez is a Professor of Biological Sciences and Natural Resources at Sierra College. She was a contributing author and primary editor of the Sierra Foothills Nature Guide (Sierra College Press, 2004.). She is also a contributing author of Wildflowers of Placer and Nevada County and the soon to be published Trees and Shrubs of Placer and Nevada Counties.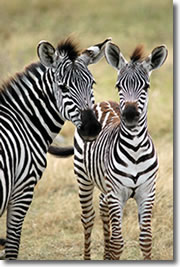 Richard Hilton is a Professor of Geology and Paleontology at Sierra College. Hilton is a paleontological consultant and an avid nature photographer. He is Chairman of the Sierra College Natural History Museum, and a board member of the California State University Chico, Geoscience Board, and the Northern California Natural History Museum. He has published numerous scientific articles in the field of vertebrate paleontology and a book entitled, Dinosaurs and other Mesozoic Reptiles of California (University of California Press, 2003.)
Rebecca Gregg is a Professor of Photography and Applied Art and Design at Sierra College. She serves on the Board of Viewpoint Photographic Art Center in Sacramento and is a Portfolio Member of Viewpoint Gallery. She regularly participates in local exhibits with her own work as well as acting as frequent curator and judge for regional photographic exhibits. Gregg was the coordinator of the Standing Guard Project and book, and the lead person in establishing the Remembrance Garden on the Rocklin campus. She has traveled with Sierra College students to Scotland, Russia, Canada, China, Austria, Peru and Italy.
Nov. 19
Swainson's Hawk: Life History, Mitigation Strategy, and Regulatory Challenges
by Mike Bradbury, CA Dept of Water Resources Avian Ecologist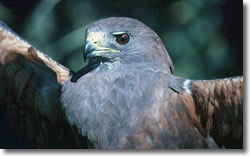 Mike Bradbury is an avian ecologist with the California Department of Water Resources. He has a BA in Environmental Biology from CSU Fresno and has been working for DWR for almost 20 years. His primary duties involve protection, conservation and mitigation of endangered species in California, specializing in bird and mammal species.
For the last 18 years, Mike has been involved with research on Swainson's Hawks, listed as a Threatened Species under the California Endangered Species Act. This research has included studying their foraging habitat, migration, distribution, population size, genetics, and the effects of nest site disturbance. Mike is also a core member of the California Swainson's Hawk Technical Advisory Committee, through which he wrote the Recommended Survey Methodology for Swainson's Hawks that has been adopted by the Department of Fish and Game.
Bradbury's presentation will include life history information, past and current research on Swainson's Hawks in California's Central Valley, conservation strategies for Habitat Conservation Plans, and an overview of large scale programs that may eventually aid the species.
Dec. 3
The Big Wet: Sacramento River During Flood
by Ted Sommer, CA Dept of Water Resources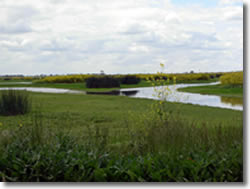 Dr. Sommer's presentation will discuss the Sacramento River's alter ego, the Yolo Bypass floodplain. When heavy rains cause the river to swell, it spills out into the vast floodplain, creating thousands of acres of shallow habitat in the lower valley. For the past 12 years, Dr. Sommer has led an adventurous effort to study the natural history of Yolo Bypass during floods. The study program has revealed that the seasonal floodplain represents one of the most important landscapes for aquatic species, particularly for young salmon and other fishes that use Yolo Bypass as a nursery and migration corridor.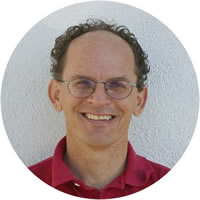 Ted Sommer received his PhD from University of California at Davis, where he studied under noted fisheries biologist Dr. Peter Moyle. His dissertation and much of his research since then has been on the ecology of the Yolo Bypass floodplain. Dr. Sommer is currently employed by the California Department of Water Resources as a Program Manager II, where he provides oversight to the Interagency Ecological Program, a consortium of nine agencies that study the San Francisco estuary. He is a leading researcher on native fishes, with studies on salmon biology, pelagic fishes, floodplain ecology, food webs, and hydrology. Since 2001, Dr. Sommer has published more than 25 research articles.
---