From Early Days in California; Scenes and Events of the '50s as I Remember Them
Lee Summers Whipple-Haslam
Jamestown, California (c.1925)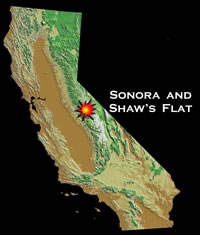 Lee Summers Whipple-Haslam was the daughter of Franklin Summers, who came to California from Missouri in 1850 and mined enough gold at Shaw's Flat (near Sonora) to return east and bring his family west in 1852. Early Days in California (c. 1925) chronicles her life in Shaw's Flat, Sonora, and other Tuolumne County communities from 1852 to 1853; and the family's new home on Turnback Creek in Tuolumne's so-called "East Belt" of mines, from 1854 to 1860. There her mother kept a boardinghouse while her husband prospected, and their guests included Mark Twain. In the book the author reminisces about her experiences as a child decades earlier in the rough mining communities. A 1923 reviewer of Early Days in California in 1923 commented that the reminiscences were "colored by time and approaching fiction," but the descriptions contain enough detail and sense of place to have historical value nonetheless.
Our Cabin
Our cabin was on the hillside; the log walls had two logs on the upper side, and, to even it up, had three on the lower, chinked with clay. A large fireplace and the door filled the front end. Mother did all her cooking by the fire, in the chimney; but with all its inconveniences it seemed like a haven of rest to us. We had two splint bottom chairs, and, with two short benches, they constituted our seating capacity. The wonder and admiration of the Flat was our cow. Mother could have sold milk at any price. The cow was not giving so very much milk, but she gave enough, I believe, for every one on the Flat to share a cup.
I was confined to the house for some time on account of my eyes. The miners seemed to adopt me. Father always called me "Tom"—at any rate, I answered to several names--"Little Sister," "Miss Pike," "Missouri," and others. In speaking of me, I was always "Frank's girl."
At that time there were two stores at Shaws Flat. Loomis and Markley owned them. The old Loomis store may be seen today; it is the first building to the left on the Sonora and Shaws Flat road going into Shaws Flat. Every vestige of Markley's store--like its patrons--is gone forever.

Some of the happiest memories of my childhood are associated with … pickle bottles.

Houses at that time were not what they are today. Endurance and beauty were not thought of. Everything that the ingenuity of man could think of was used for building material. All kinds of food stuff was exorbitantly high, and no variety; only the exigency to sustain life could be procured. I remember the first dried apples that appeared in the stores; they were small, sour, cut in quarters strung on twine and sold for three dollars a yard. Then a few bottles of pickles appeared—quarts and pints. They sold for $5 a quart and $2.50 a pint. The bottles, to my inexperienced eyes, were marvels of beauty, green, pink and clear glass. The boys gave me many of the bottles, and at this time I have one (a green one); money could not buy it. Some of the happiest memories of my childhood are associated with those pickle bottles. At that time I had no playmates or dolls. You see, reader, I was denied all that goes to make a happy childhood.
True Friendship
I was in a hive of busy workers, but I had, for compensation, the disinterested love and friendship of all the pioneers on the Flat. And I believe today one of God's greatest gifts to man is true friendship. For me, the admiration of a thousand would be no compensation for the loss of a true friend.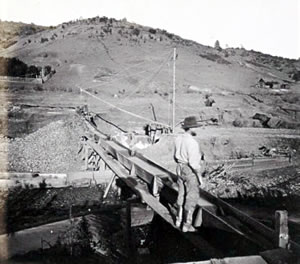 At that time, in 1853, the only tangible evidence I possessed of ever learning to read and write was a "Webster Spelling Book" I brought from Missouri. And it was ten long years after that before I had an opportunity to go to school.
After we had got settled at Shaws Flat, and I had recovered sight, mother wanted to come over to Sonora to buy some material to renew our wardrobe. It was late in the fall of '52. She opened a small trunk. She had reserved one dress for herself and one for me from the "wear and tear of the plains." Of course, kid like, I must see everything in the trunk. She was in a hurry, and, in taking out the dresses, she uncovered a pair of beautiful beaded moccasins. Oh! Oh! Oh!—I lost my breath, and gazed—mouth open and eyes protruding. Mother had not time to listen to my rhapsody. We were soon ready, and for the first time, in November, 1852. I saw Sonora. I felt a personality, just like I might possibly be somebody. I had on a new calico dress, my beaded moccasins, and on my head I wore "the pride of Missouri,"—a white sunbonnet. I do not remember seeing any white children that day, only Mexicans and Indians. Sonora, at that time was not a place of beauty. It had its Long Tom saloon and in fact many saloons, and for the first time in my life I saw a drunk man. He tried to walk; he fell down, kicked and rolled, like a dog in the last paroxysms of hydrophobia.