From Incidents on land and water, or Four Years on the Pacific coast
Mrs. D.B. Bates
Boston, J. French and Company, 1857
A native of Kingston, Massachusetts, Mrs. Bates sailed to California in 1850 on board the Nonantum, a coal ship commanded by her husband. On reaching California , the Bateses operated a hotel in Marysville from 1851 to 1854. Incidents on land and water (1857) contains Mrs. Bates's hair-raising account of her voyage to California, when fires forced the scuttling of three ships on which the Bateses sailed. Mrs. Bates recounts hardships of the mining town, with special attention to the life of women and children in the camps, and gives details of a tour of the Sacramento Valley.
In this selection, Mrs. Bates describes a harrowing incident from Fall 1852. She details the experiences of her brother on the stormy trails near the little Sierra Nevada town of Downieville.
Fall 1853

In an exhausted state he reached Downieville, and found provisions very scarce, and dear as gold dust.

In the fall of 1852, my brother was in the mines, on the north fork of the Yuba, about one hundred miles above Marysville. As the rainy season was commencing, and knowing his claims to be on the river, where they could not be worked except in the dry season, I was daily expecting him to arrive in Marysville, as he had written to that effect; yet he came not. Daily I heard accounts of large quantities of snow falling; and it finally fell to such a depth, that all communication with the settlements in the mountains was cut off before the winter's supply of provisions had been transported thither. Fears were entertained that the mountain population would suffer incredibly for the want of food; and so they did.
Finally, a straggling, emaciated, exhausted party arrived in town from Downieville, which is eighty miles distant from Marysville.
Deep Snow
Fifty miles of the route they had traversed over snow, which lay to the depth of ten and fifteen feet, and part of the time sinking, at every step, up to their arm-pits in it. Two or three of their number had given out and died on the way. The reports they brought were dismal in the extreme. They said the entire male population would be obliged to leave Downieville, and get to Marysville, if possible, or die in the attempt, as there were only provisions enough in town when they left to supply the women and children.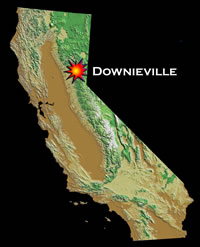 What anxiety I felt on my brother's account, knowing that he must depend upon Downieville for his supplies! No tidings whatever could I obtain of him, and did not for four months. During this time, remnants of parties were arriving, completely exhausted, and reporting great distress in the mountains. At the expiration of that time, the express-men opened for themselves a passage through the snow. Then I received a letter, stating the following particulars:
He had made every preparation for leaving his log cabin as soon as there was any appearance of snow, when one of his partners (he had two) was violently seized with the mountain fever. Then came the first fall of snow. What could they do? They could not leave him to die alone, and it was impossible to move him. For one month he was constantly delirious. He had no physician to attend him, and there he lay, day and night, talking to his mother and friends at home, in happy unconsciousness of his deplorable situation. The snow fell until it lay to the depth of fifteen feet.
Destitute and a Long Way to Go
Downieville was twenty miles distant, and thither one of them must go to obtain provisions; for they were entirely destitute of everything in the eatable line, and almost destitute of money. They had sent their gold to Marysville the day before the partner was taken sick, reserving only sufficient to defray their expenses down.
My brother started to go to Downieville, previously assisting his partner to tie the sick man on to his pallet of straw; for, in moments of violent delirium, one person could not compete with him in strength.
In an exhausted state he reached Downieville, and found provisions very scarce, and dear as gold dust. For ham he paid eighty cents per pound; for flour, one dollar and a half per pound; and everything in a like proportion. For one ten pounds of flour, which he bought during the winter, he paid twenty-five dollars. He wanted to get some corn meal to make gruel for the sick man, and succeeded in getting one pound, for which he paid the exorbitant sum of two dollars.
Provisioned and Heading Back
With a back-load of provisions—which weighed sixty-one pounds, and cost one hundred dollars—he started back. Several times, on the way, he felt as if he should never live to reach the little cabin; but he finally arrived there. "Oh," said he, "what dreary days and nights we passed in that log cabin, listening to the moanings of the sick man, whom we were hourly expecting to breathe his last, surrounded and hemmed in by impassable barriers of snow! We could not wile away the time evenings by reading, for we had no oil or candles: a little grease in a tin plate, with a rag in it, was all we had to light in case of emergency. Our cabin was completely covered with snow. We kept a hole open from the door up to the surface. Mornings, upon going out, the foot-prints of large grisly bears would be all around in the snow, over the top of the cabin. When we had consumed all the provisions which I had taken up, we both started again for more, leaving the sick man alone; but he was wholly unconscious, and never knew of our absence. What little we could get this time was even higher than before; and the climate had a tendency to give us such good appetites. We boiled those ham bones until they were as white as polished ivory. For two or three days we subsisted upon watergruel.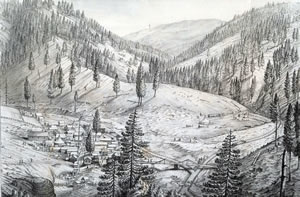 "I then started again for Downieville, so hungry and faint, I thought I should never reach there. I had no money; but a trader in Downieville, who was acquainted with my circumstances, kindly offered to furnish me with provisions, upon credit. As I was passing a hotel, I smelled the dinner, and stepped upon the stoop, wishing—oh, how earnestly!—that I had the wherewithal to procure a dinner. But I was 'flat broke,' as the saying is there, when one is out of funds. Presently I was accosted by a fellow who once mined with me in the country. Said he, 'What is the matter, Bryant? What makes you look so down-hearted? Are you flat broke?'—'Yes,' said I, 'and starving, besides.'—'Not while I have the color,' said he, and put five dollars into my hand. With this I bought myself a good dinner; and it was a wonder I survived it, for I assure you I did eat some.

If I am ever worth a fortune, you shall share it with me.

"Thus we lived on for four long, weary months. The fever settled in the sick man's toes, and they all decayed. Finally, he began to convalesce; but it was six months from the time he was taken with the fever before he was able to walk. How grateful he felt to us, who had almost sacrificed our lives to stay by and nurse him! He would cry, and say, 'If I am ever worth a fortune, you shall share it with me.' Before I left the country, he had been able to earn a little money. He came to see me, and proffered the whole, as he said, to compensate, in a measure, for my kindness to him. Of course, I refused to accept of one dollar; for he then looked too feeble to work.
"During all these winter months, we never shot but one deer; and then we feasted! The snow lay to such a depth, we could not go hunting; and game was very scarce, too.
"The provisions which we consumed during three months amounted to five hundred dollars, and then never had as much as would satisfy our appetites at any one meal."