From California, In-doors and Out; or, How We Farm, Mine, and Live Generally in the Golden State
Eliza W. Farnham
New York, Dix, Edwards, 1856
The following is a special biographical introduction to Eliza Farnham written by JoAnn Levy, author of Unsettling the West: Eliza Farnham and Georgiana Bruce Kirby in Frontier California (Heyday Books, 2004) – Used by permission of the author and the Sierra Nevada Virtual Museum.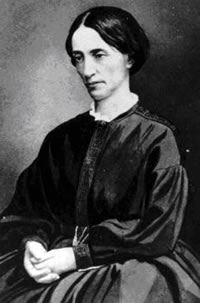 Eliza Farnham is a stranger's name. It rings no bells. If she were important, the public reasons, surely we would have heard. But many remarkable lives escape telling, remain unknown, unsung. That few today know of Eliza Farnham-once famed as a prison matron, phrenologist, author, lecturer, spiritualist, and philanthropist-provides the proof to that pudding.
In her time, the public knew her. Eliza Farnham's name first appeared in newspapers in 1840. It stayed there twenty-five years. Her public lectures on phrenology, spiritualism, prison reform, and the superiority of women attracted audiences and admiration: "The entire people present seemed determined not to lose a sentence. They were right. There was not one word but deserved attention; not a weak, worthless paragraph in the whole of it. The impression left predominant was that the entire lecture was all of thought…the production of an earnest, philosophical, enlightened mind…imbued with clear perceptions and pure aspirations."
Her every move made good copy. Following her controversial administration at Sing Sing Prison, Mrs. Farnham attempted to take 130 marriageable women to gold rush California, captivating editors on both coasts. Magazines knew her name, too. In Brother Jonathan she debated the editor, John Neal, on woman's rights; in the Knickerbocker she humorously described an Illinois camp meeting; in The Prisoner's Friend she revealed how famed deaf-mute Laura Bridgman, her student at Dr. Samuel Gridley Howe's Massachusetts Institute for the Blind, learned to communicate in a trail-blazing technique famously practiced years afterward with Helen Keller.
Trail Blazer
Trail-blazing in the literal sense attached to the Farnham name, too. Eliza's husband, attorney Thomas Jefferson Farnham, crossed the plains from Illinois to Oregon in 1839, visited the Whitman Mission there, then sailed for the Sandwich Islands where King Kamehameha III authorized him to represent, in U.S. and foreign courts, the Islands' fight for independence. From Honolulu, Farnham went to California, where he obtained the release of Americans and Englishmen jailed by the Mexican government. A few years later Farnham returned to California, and his death there in 1848 induced his wife's journey west. There—after reuniting with her two young sons, and suing the ship's captain for abandoning her in Valparaiso and sailing off with her children—she built, at Santa Cruz, a house with her own hands, farmed, taught school, and wrote the first book on California by a woman.
In California, Eliza Farnham married and divorced an abusive husband, then returned east. In New York, during the financial panic of 1857, she founded the Women's Protective Emigration Society, escorted several hundred unemployed women to jobs in Illinois and Indiana, and inspired more public praise: "Few ladies…have labored with more true zeal…to ameliorate the condition of the laboring class of women, and those who, by reason of misfortune, need aid, than Mrs. Eliza W. Farnham. Truly can she be classed among our noblest female philanthropists…. God speed her in her noble mission."
Five Books Published
At Susan Anthony's invitation, Mrs. Farnham addressed the 1859 Woman's Rights convention on the superiority of women, then returned to California to serve as matron of the state's first insane asylum. When she recommenced her lecture tours, newspapers covered her every appearance, including her address to the California State Legislature on the inadequacies of their new state prison at San Quentin. In 1863 she was again in the East, this time at Gettysburg, serving with Dorothea Dix as a volunteer nurse. An autodidact of prodigious intellectual achievement and only two years of schooling, Eliza Farnham published five books: Life in Prairie Land—a pioneer chronicle of her residence in Illinois in the 1830s; California In-Doors and Out—a first-person account of California during the gold rush; My Early Years—an autobiography of triumph over an abusive childhood; The Ideal Attained—a novel advancing her philosophy on male-female relationships; and Woman and Her Era—a two-volume scientific argument for woman's superiority. Reviewing this book, the Atlantic Monthly observed: "In the three and a half centuries since Cornelius Agrippa, no one has attempted with so much ability as Mrs. Farnham to transfer the theory of woman's superiority from the domain of poetry to that of science."
Eliza Farnham's extraordinary life—an inspiration in courage, accomplishment, adventure, and ideas—ended at age forty-nine, from tuberculosis contracted at Gettysburg. Her death occasioned a noteworthy funeral: "Anyone in attendance at Dodworth Hall, yesterday, could not but feel that the occasion was no ordinary one. The Hall, although very large, proved much too small to accommodate the crowd; hundreds going away unable to obtain standing room. The exercises were opened by singing, and were followed by a short address from the Rev. Mr. Frothingham, upon the character of the deceased… whom he considered to be one of the leading women of the age, and whose intellect he considered to be of an order quite beyond the appreciation of mediocre minds."
Editor's Note: The following selection is from California, In-Doors and Out (1856), which opens with a description of Eliza Farnham's traumatic voyage around Cape Horn in 1849. In 1850, Farnham and her children moved to El Rancho La Libertad, the Santa Cruz farm left to her by her husband. In the book, Farnham describes her experiences as a farmer, the position of women in California, mining life, the history of the Donner Expedition based on interviews with survivors, and the 1856 San Francisco Vigilance Committee. The passage below provides Eliza Farnham's description of mining life in the diggings of the Gold Country.
Gold
In these dry diggings, a shovel, pick and pan are the implements required. The pans are of common tin, and are now chiefly used in prospecting the earth. A panful is taken to the water, and washed, and from the amount it yields, the richness of the earth is estimated.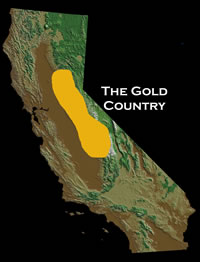 The yield varies from one cent to ten dollars, and, sometimes, even more, per pan. Happy are they who find the latter residuum. On every return to camp, which is, if possible, near some water-course, a panful is tested, and thus, the miner keeps himself advised of the quality of his diggings.
My own experience in mining is confined to this variety. I washed one panful of earth, under a burning noon-day sun, in a cloth riding-habit, and must frankly confess, that the small particle of gold, which lies this day safely folded in a bit of tissue paper, though it is visible to the naked eye, did not in the least excite the desire to continue the search.
A large portion of the gold which has so far been taken out of the earth in California, has been gathered in these dry diggings. To extract their treasures, no capital is required but perseverance and industry; and the thousands of men who have singly applied themselves to it since 1848, have aided throughout the world, more powerfully than any cotemporary laboring class, the growth of that republican sentiment whose rugged justice threatens the throne and smiles upon the hovel. Success to them, not only in their gold quest, but may true manhood, with all its honor, purity, and faithfulness, be among them, and abide with them, whether success or failure await them in it.
How inadequate to their results seem often the events of life! When the apple fell before the meditative gaze of Newton, and the chandelier of the Roman cathedral, vibrating from its lofty ceiling, suggested the discovery of the immortal Florentine, how little even those sagacious and far-reaching minds could foresee of the extended results which should flow to man from their notice of these common facts.
June 1848
So, when in June, in the year 1848, in a narrow valley, between huge mountains, in the wilds of California, a country then known only by name to the civilized world, a laboring man picked from the bank of a river, wherein he was digging a mill-race, a piece of yellow, shining metal; and, after turning it many times over in his hand, "guessed" it was gold, and showed it to his companions, who united in his opinion, and turned from their labor to search for more, how little could they—or wiser, had they been there—prophecy of the results of their discovery?
As facts, they almost stagger the cool judgment which witnesses their existence: the wildest imagination could not have foretold them.
Standing by that swift, rushing stream, whose power they were then first about to render subservient to man, amid the deep solitude of the great mountains, whose summits propped the cloudless lift that smiled upon them, how calm were their days! The constancy of the natural world took from their lives every feature of hazard, every tint of excitement. We may imagine that, for an hour, this event seemed as unimportant as any that had preceded it in their lives; but, searching for more of this "stuff," they soon found it so plentiful in the bed of the stream and its banks, that it seemed altogether the most desirable question they could then have answered, whether this was, indeed, gold, or only something that resembled it.
A Man at Sutter's Fort

This is gold. Is there more where you found these lumps?"
"Plenty, sir, I reckon.

There was a man in the country whose dictum they could trust, and it was thought advisable to start a messenger to him with some specimens. Behold him, then, the first California gold-carrier, mounted on flying, ungroomed horse, zarapa floating on the wind, huge stirrups jingling, cigar-smoke trailing in his dusty wake, dashing off to Sutter's Fort. He arrives, seeks his oracle, takes him aside (for the Fort is populous with Indians, laborers, trappers, travelers, tradesmen, and others, either serving its proprietor or recipients of his bountiful hospitality), and, showing his "specimens," awaits the momentous answer. It is soon given.
"This is gold. Is there more where you found these lumps?"
"Plenty, sir, I reckon."
Next day a party set out for the mill. The search was commenced in earnest. In the immediate locality of the first discoveries more was found. News was sent to the Bay. Men roused themselves from their sleepy trading, mounted horses, or took such small boats as had been in use on the rivers before, and set out for the mines. The first excited adventurers came down with laden pockets and crazed brains; sailors left their vessels; lazy Spaniards their ranchos; merchants their stores; clerks their desks. The news flew over the country, and went to sea in vessels that could fortunately get away; and thus commenced that gathering which has since revolutionized—physically as well as politically--one of the most beautiful and attractive lands on which the sun shines, and opened an era in history which, considered in all its tendencies, inspires the progressive mind with more rational hope for man, than any that has preceded it.
The Children
This is the pleasant side of the picture, and I have got far away from the starting point, to which I return, to say a few words more on the mines—on one, especially, of their saddest features. I mean the condition of children and youth, growing up in them. Surely, nothing in the worst conditions of the young, in our large cities, could be more deplorable than much of what I saw in the mining towns. In the lesser ones, there are not, generally, churches; and religious meetings are held, if at all, once or twice a month, by appointment.

Drunkenness, carousing, profanity, are frightfully prevalent.

The Sabbath is a day of revelry and dissipation. A majority of the miners repair to the towns to make purchases for the ensuing week. Then those who are disposed to indulgence take full license. Drunkenness, carousing, profanity, are frightfully prevalent.
The children participate in all the vices of their elders. I saw boys, from six upward, swaggering through the streets, begirt with scarlet sash, in exuberant collar and bosom, segar in mouth, uttering huge oaths, and occasionally treating men and boys at the bars. A mother with whom I was talking, saw from my window her son, a young hopeful of ten, walk into a rum-shop opposite, and call up two or three men and large boys to drink. I called her attention to the fact, not knowing that she had a son.
"Yes," she said, sadly, "that is my boy."
"And is it possible that you cannot prevent him?"
"No; he washes his own gold, and gets from three to five dollars a week; and he will spend that for what he pleases."
"But, can you not put him in child's clothes, and keep him from that dreadful, premature mannishness?"
"No," said the poor soul, "I cannot. There are so many boys in town that do what you see him do, that it is impossible to stop one; and the fact is, that up here our boys grow old very fast, anyhow. There is no school to send them to, and no church, and it's useless trying to make good boys of them, when they see men behave so badly, and hear so much swearing and bad language."
… It is lamentable, indeed, to witness the exposure to the worst influences and examples that children suffer throughout the country, but nowhere so generally and inescapably as in the mines. Doubtless, remedies will be rapidly provided, as the settlements grow older; but it requires a great stretch of vision to foresee a time when one could willingly sit down in a California mining town to rear a family. For it is not so much considerations of moral welfare that engage these communities as fluming, canalling, sluicing, damming, washing, etc.
Capital Investment
There are now in the state numerous water-companies, with heavy capitals, whose purpose is to convey water from rivers, springs, etc., by artificial means, through regions that are naturally destitute. In a very few years, there will, no doubt, be an immense capital invested in works of this sort—in tunnels and other means of approaching and taking possession of the locked-up treasure. The amount of labor which these works have already absorbed, is greater than has been expended, since their first discovery, in opening half the mines of South America. The mechanic arts, generally, have kept pace with the improved methods of mining. Flour and lumber mills of the best description have been erected in or near the cities and towns, and many of the latter in the forest regions; the best agricultural implements are now to be had, and all the more common and necessary descriptions of mechanical labor can be procured in the cities and older towns. Artisans of all nations may be found in San Francisco, from the Chinese tailor to the Parisian artiste—from the sturdy blacksmith to the Swiss watchmaker.
The country abounds in the best kinds of timber, in many parts, in good stone, and coal is believed to be abundant, though as yet it has not been actually found, in any quantity, south of Oregon.

She can do anything a state is called upon to do for the welfare of all classes of her citizens.

… The climate and soil admit the growth of many tropical productions, and bring to fullest perfection the fruits of the temperate zones. For cereals California is unequaled. It is the opinion of many intelligent Chinese, that tea would do well in some of the inland, hilly regions, and it is confidently expected that California will in time grow at least her own cotton. Flax is spontaneous in some parts, and wool, of the coarse sort, may be very abundantly produced, almost without expense.
For the rest, we need have little fear for the growth and prosperity of a state which, before the close of its third year, had exported between two and three hundred millions of gold.
… A country which can sustain such a drain upon its wealth, and in the same years build and rebuild towns and cities, construct public works, and enlarge its mechanical, agricultural, and commercial interests, as California has, can never be allowed to plead inability for any of her short-comings. She can do anything a state is called upon to do for the welfare of all classes of her citizens. And she has done much. A public-school system has been organized, and partially put in operation; a state prison commenced, a lunatic asylum, a state hospital; the people have built churches, organized charitable associations, supported private schools, founded libraries, and other institutions for the general improvement, and are moving vigorously on in similar efforts. In what they have done, they have shown what they can do. God speed them!