Robert Underhill

…organized climbing outings that used Underhill's rope techniques and other European methods…

The 1930s was an especially rewarding time for Yosemite climbers. In Summer 1930, Francis Farquhar, editor of the Sierra Club Bulletin and an avid mountaineer, had learned European rope techniques from Robert Underhill, whom had just returned from two years climbing in the Alps. Farquhar asked Underhill to write an article for the Sierra Club Bulletin describing the new procedures.
In February 1931, Underhill's 20-page article was published and piqued the interest of the brave little band of rock climbers headquartered in the Bay Area. The San Francisco-based Sierra Club organized climbing outings that used Underhill's rope techniques and other European methods such as the running belay and Dülfersitz rappel.
Using the New Technique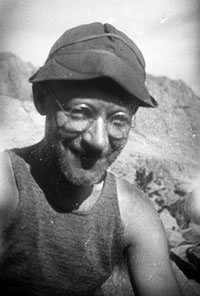 By the summer of 1931, the climbers made their first Sierra ascents using the new modus operandi, including a new route to the summit of Mt. Whitney. The only item they desired and lacked is the carefully engineered rock pitons then being used in Europe. Instead, these intrepid Sierra Nevada climbers used 10-inch nails they acquired at the local hardware store.
These avant-garde mountaineers were particularly intrigued by the Cathedral Spires in Yosemite Valley, These intimidating granite spikes—called the Lower and Higher Cathedral Spires—soar more than 2000 feet above the valley floor.
Nails Inferior to Pitons
Throughout 1932 and 1933, attempts are made, without the appropriate pitons, to climb both spires and the efforts failed, often just feet short of the top. Frequently, the 10-inch nails used as ersatz pitons bend terrifyingly under the climber's body weight. Three climbers—Richard Leonard, Jules Eichorn and Bestor Robinson—realized the need for proper pitons and take on odd jobs to raise money to buy the more desirable equipment.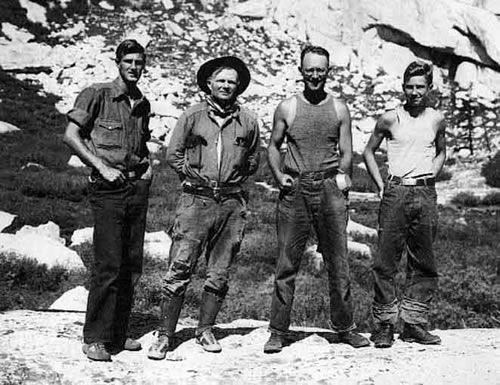 Eichorn earned a little extra cash by working for the famed photographer Ansel Adams. Eichorn developed and washed prints for Adams in the photographer's bathtub. After securing the correct, high-tech pitons from the mail order athletic equipment company SportHaus Schüster in Munich, Germany, Leonard, Eichorn and Robinson successfully climbed the Higher Cathedral Spire on April 15, 1934. The ascent took nine hours and used thirty-eight pitons.
Once on the pinnacle, the trio raised an American flag, took a few congratulatory photographs as proof, and then rapidly rappelled—using the Dülfersitz rappel technique, of course—down the spire to greet a crowd of delighted well-wishers far below. Their success opens the floodgate for future rock climbers.
Image Credits:
Robert Underhill in 1931. Source: From the Glen Dawson Collection, 1931
Climbers of the first ascent of the East Face of Mt. Whitney, August 16, 1931 (left to right) Jules Eichorn, Norman Clyde, Robert Underhill, Glen Dawson Photo taken by Francis Farquhar; From the Glen Dawson Collection, Sierra Club-Angeles Chapter Archives, Image ID: Dawson G 434
---