Edward P. Duplex and Moses Rodgers

…the story of African Americans in the Range of Light has been hidden in the shadows.

History can be our humble servant or our most terrible nightmare. It illuminates our essence and offers guidance for the road ahead, it reinvigorates a fading recollection, and offers the nostalgic nourishment of timeless moments. History can also harm, it can be a veil that shelters us from our darker nature, and inoculates us from our transgressions and hardships.
But, worst of all, history can lead to cultural amnesia, an inability or unwillingness to remember those who proceeded us. This is certainly true of one group who has had a significant influence on the eternal chronicle of the Sierra Nevada. The most important component of the word "history" is "story." And for too long, the story of African Americans in the Range of Light has been hidden in the shadows.
Invisible History
In 1952, the novelist Ralph Ellison wrote Invisible Man, his examination of African American reality in the United States. In the novel's prologue, his words express a frustrating hindrance to a comprehensive study of black history: "I am an invisible man…I am a man of substance, of flesh and bone, fiber and liquids—and I might even be said to possess a mind. I am invisible, understand, simply because people refuse to see me."

The rich and lively history of African Americans in the Sierra is merely a nebulous phantom if it is forgotten. Accounts of accomplishment and sorrow mean nothing if unnoticed. Memory is useless if it disappears on the breeze. Vision is impossible if you fail to see. Perhaps shedding a little historical light can help illumine some of these lamentable shadows.

Here are two examples of influential but largely forgotten Sierra Nevada African Americans:
Edward P. Duplex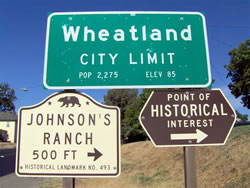 Edward P. Duplex, a native of Connecticut, operated (along with other black miners) the Sweet Vengeance Mine in Brown's Valley, in the Sierra foothills, outside of Marysville in the mid-1850s. Duplex also opened a string of successful barbershops throughout the region.
In 1875, Edward and his family moved to Wheatland, about fifteen miles south of Marysville. In 1888, Duplex was elected mayor of the community, quite probably the first African-American mayor west of the Mississippi.
Moses Rodgers
Moses Rodgers, born a slave in Missouri, arrived in California in the early 1850s. Rodgers, a widely respected mining engineer and entrepreneur, owned and managed a string of mines throughout the Southern Mines, including the highly profitable Mount Gains Mine near Hornitos. Rodgers prospered and established an elaborate homestead in Stockton.
Moses Rodgers paid for and was responsible for bringing natural gas service to Stockton. When Rodgers died in 1890, the outpouring of grief and respect was region-wide. In an era where racial segregation and openly communicated racism was the norm, perhaps the most interesting expression of condolence came from William S. Chapman, a white business associate of Moses Rodgers:
I have known Mr. Rodgers a long time and knew him only to respect him. It is true that he was a colored man, but I always regarded him as the whitest man in all my acquaintances in Mariposa County…. When with him I never had the feeling that he was a colored man. It never seemed to occur to me. I have sat at his table many times and he at mine, and the reflection that he was a colored man never entered my mind. He was a gentleman in every sense of the word.
Image Credits:
Wheatland City Limits Sign Source: City of Wheatland
Location of Edward P. Duplex's Barbershop (left side of building) in Wheatland Source: Photo by Gary Noy
Exterior of Duplex's "Hairdressing and Shaving Saloon" at 412 Main Street in Wheatland. It is said that the exterior has not changed very much since 1875. Source: Photo by Gary Noy
Historic Plaque outside of Duplex's Barbarshop in Wheatland Source: Photo by Gary Noy
The Moses Rodgers House in Stockton, California Source: Collections of the City of Stockton
The City of Stockton and the Port of Stockton Source: California department of Water Resources, 2004
Historic Downtown Wheatland Source: Photo by Gary Noy
---