Contributor to This Issue
Gary Noy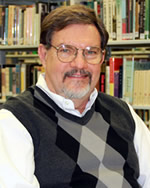 Gary Noy taught history at Sierra College from 1987-2007. Until his retirement in 2012, he was the Editor-in-Chief of the Sierra College Press and the Founder/Director of the Sierra College Center for Sierra Nevada Studies.
Gary is the author of the best-selling Distant Horizon: Documents from the 19th Century American West (University of Nebraska Press, 1999). He was named Sierra College Part-Time Instructor of the Year for 2004-2005. In 2006, the Oregon-California Trails Association, a national historical organization, named Gary the "Outstanding Educator of the Year."
He is co-author and editor of the Sierra College Press book, The Illuminated Landscape: A Sierra Nevada Anthology, co-published by Heyday Books and Santa Clara University. This sweeping investigation of the Range of Light includes literary descriptions of the Sierra Nevada from the earliest native cultures to the present.
In Spring 2014, the Sierra College Press and Heyday Books will co-publish Gary's book, Untangled Shadows: Tales from the Sierra Nevada, which will offer unusual stories of the range in areas such as entertainment, art, literature, photography, politics, engineering, transportation, structures, cultural activities, environmental history, and even the curious story of camels in the Sierra.