Alice Huyler Ramsey

…driving a car over the Sierra Nevada in the first fifteen years of the 20th century was an adventure…

At the turn of the 20th century most roads available for early automobiles in the Sierra were considered treacherous, such as the skinny tentacle over Sonora Pass, which the Bureau of Highways described in 1901 as "22 miles over granite formation that is little more than a creek bed." One wag depicted another highway that was so muddy in Winter and Spring as "130 miles long and 5 feet deep."
Even when road funding became available, mountain road construction and repair costs were prohibitive, the traffic skimpy, the work season brief, the state diverted most of its highway funds to populated areas and Sierra Nevada roads were afterthoughts. The result was that driving a car over the Sierra Nevada in the first fifteen years of the 20th century was an adventure, and a potentially deadly undertaking at that.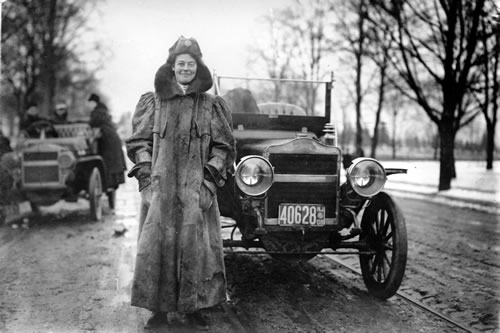 Autoists Over the Sierra
Evidence is sketchy as to what would constitute the first automobile to crest the Sierra, but there is a convincing report that a party of "autoists," as they were charmingly called, successfully crossed Donner Pass in May 1901. The next year, audacious George Wyman became the first motorcyclist to accomplish the feat in what must have been an extremely uncomfortable and bumpy ride. Within several years, trailblazing "autoists" crossed the Sierra at Echo Summit on the Carson City-Placerville route.
In 1903, Dr. Horatio Nelson Jackson and Sewall K. Crocker became the first people to drive an automobile across the United States, an event that came to be known as "Horatio's Drive." Piloting a two-cylinder, twenty-horsepower, used Winton car, which the good doctor nicknamed "Vermont" after his home state, Jackson and Crocker started in San Francisco. They would later be joined in Idaho by their goggle-wearing Pitbull dog, Bud.
They crossed just north of the Sierra in Alturas, likely influenced by the fact that an obliging bystander had given them wrong information that sent the tandem 108 miles in the wrong direction. The helpful woman offered the erroneous details so that her family could see an exceedingly rare marvel—an automobile. Sixty-three days and 800 gallons of gasoline later, Horatio, Sewall and Bud reached New York City.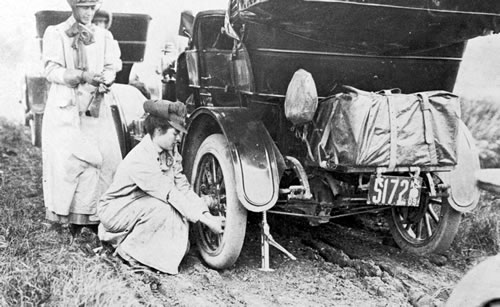 First Cross-Country Drive
In 1909, Alice Huyler Ramsey was the first woman to drive across the United States. The 22-year-old New Jersey housewife and Vassar College graduate was accompanied by three other women, none of whom knew how to drive. Beginning in Manhattan, the trip took fifty-nine days and covered 3800 miles, of which only 152 were paved.
Driving a brand-new, green Maxwell 30 automobile, Alice Ramsey changed eleven tires, cleaned the spark plugs, repaired a broken brake pedal, and suffered from a case of bedbugs. In 1961, Ramsey wrote an account of her trip entitled Veil, Duster, and Tire Iron. She remembered crossing the sizzling Great Basin in July and seeing the welcome vision of Sparks, Nevada, in the distance:
I shall never forget the surprise of the vista busting upon us in the darkness. Here was a hollow in which lay a community [Sparks] brilliantly lighted with electricity! Right out of the dark and barren desert, this almost bowled us over. It was only a couple miles from Reno and was connected to it by trolley! Surprise! Surprise! Suddenly we had returned to civilization!
Soon, Alice's Great Adventure continued as she and her three companions traversed the Sierra Nevada near Lake Tahoe. It took the quartet eight hours to travel seventy miles. Alice recalled her emotions upon reaching the summit:
Majestic sugar pines, Douglas firs and redwoods lined our roads on both sides. What a land! What mountains! What blue skies and clear, sparkling water! Our hearts leapt within us. None of us had ever seen the like-and we loved it. We almost chirped as we exclaimed over the grandeur that surrounded us on all sides.

In October 2000, Alice Huyler Ramsey was the first woman inducted into the Automotive Hall of Fame in Dearborn, Michigan.
Image Credits:
Alice Huyler Ramsey. Source: Collections of the Library of Congress, George Grantham Bain Collection, ID: ggbain-03065
Alice Huyler Ramsey changing a tire on her Maxwell. Source: Collections of Vassar College Archives
---