The Last Season
Eric Blehm
Author
In April 2008, Eric Blehm presented a lecture on "The Last Season" to the Sierra College class named Interdisciplinary 6: The Sierra Nevada.
On July 21, 1996, James Randall Morgenson—one of the National Park Service's most celebrated characters—grabbed his radio and his backpack and walked out into the wilderness on patrol. He never returned.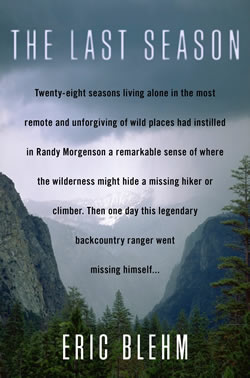 In The Last Season, Eric Blehm takes us inside the mind of Randy Morgenson and meticulously recounts one of the most intensive search-and-rescue operations in NPS history. A backcountry ranger in California's High Sierra Mountains for nearly three decades, Morgenson was a legend within Sequoia and Kings Canyon National Parks, but he was also human with inherent flaws. The solitary man was keeping a few secrets—secrets that led those searching for him to suspect that maybe he didn't want to be found.
Blehm goes deep into the heart of the High Sierra to chase the ghost of Randy Morgenson, weaving haunting details about the ranger's life with the story of those risking their own lives to search for a missing friend. What emerges is a portrait of a complicated, thoroughly original, and wholly fascinating man, and a look at what can happen when one lives a life without compromise.
Was Randy Morgenson murdered? Did he take his own life? Or did he just walk out of the woods one day intent on wiping the slate clean and starting anew? The Last Season offers us the adventure we crave from wild places, the romance we seek in harsh lands and human emotion, and reminds us that no matter how deep we venture into the wilds, we can't escape ourselves.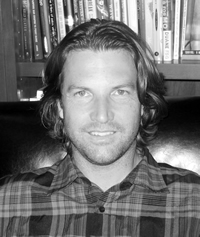 Eric Blehm is the former editor of TransWorld SNOWboarding, the author of Agents of Change, and co-author of P3: Pipes, Parks, and Powder. He is also a freelance journalist who frequently writes about snowboard mountaineering and adventure travel. Blehm lives in Southern California with his wife and children. Since this presentation in 2008, Blehm has written The Only Thing Worth Dying For (2010), which was New York Times Bestseller; and Fearless (2012).
The following was part of a classroom presentation. As a result, there may be references to charts, diagrams, photos or other unseen imagery.
This presentation was originally a "SierraCast," a podcast from the Sierra College Center for Sierra Nevada Studies website, the Sierra Nevada Virtual Museum, which was online from 2005-2012.
The presentation begins with Eric Blehm discussing the childhood influences on his writing.
This presentation is 123 minutes. Introduction read by Gary Noy, Director emeritus of the Sierra College Center for Sierra Nevada Studies and former Editor-in-Chief of the Sierra College Press.
Photo credits:
Eric Blehm – courtesy of Eric Blehm
The Last Season book cover – courtesy of Eric Blehm
---