Deeper Than Gold
Brian Bibby and Dugan Aguilar
Authors
In January 2008, Brian Bibby and Dugan Aguilar spoke on California native cultures to the Sierra College class named Interdisciplinary 6: The Sierra Nevada.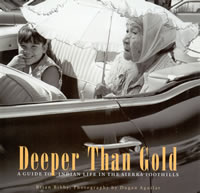 The Native cultures of the Sierra Nevada Foothills present a fascinating and complex story. This lecture presented scholar Brian Bibby and photographer Dugan Aguilar discussing this remarkable chronicle through a presentation on their book Deeper than Gold: A Guide to Indian Life in the Sierra Foothills (2004).
Deeper than Gold brings together the present and the past—both ancient and recent—in a captivating compilation of anecdote, myth, recollection, and reflection. Five years in the making and the result of almost thirty years of dedicated work among California's native communities, Deeper Than Gold is a tribute to the Native people of California's Gold Country. This lecture featured author Brian Bibby discussing the book, and renowned photographer Dugan Aguilar discussing and showing his beautiful original photographs.
Brian Bibby is an independent scholar and cultural activist. He has worked for over thirty years with elders of many of California's Native communities. A longtime scholar of the song, dance, language, and artistic traditions of Native California, he has taught at a number of institutions and has served as a consultant and guest curator for many cultural and folk arts programs in California. He is also the author of The Fine Art of California Indian Basketry (1996) and Precious Cargo: California Indian Cradle Baskets and Childbirth Traditions (2006). Since this lecture in 2008, Bibby has authored Essential Art: Native Basketry from the California Indian Heritage Center (2012).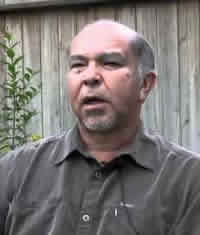 Dugan Aguilar is a Pauite/Pit River/Maidu photographer whose work celebrates the perseverance of Native American culture. He has exhibited his work at the Institute for Indian Arts, the California State Indian Museum, and the C.N. Gorman Museum. He is the recipient of several awards from the Santa Fe Indian Market. He lives in Elk Grove, California. Dugan also attended Sierra College.
Since this lecture in 2008, Aguilar has had major exhibitions at the Autry National Center in Los Angeles (2008), Grace Hudson Museum in Ukiah, California (2008), Oakland (California) Museum (2010) and the de Saisset Museum at Santa Clara (California) University (2010). His photographs have appeared in many publications, including the upcoming Sierra Stories: Tales of Dreamers, Schemers, Bigots and Rogues (Heyday, 2014), which features Dugan's portrait of the Maidu artist Judith Lowry.
The following was part of a classroom presentation. As a result, there may be references to charts, diagrams, photos or other unseen imagery.
This presentation was originally a "SierraCast," a podcast from the Sierra College Center for Sierra Nevada Studies website, the Sierra Nevada Virtual Museum, which was online from 2005-2012.
Part One begins with Dugan Aguilar reminiscing about his days as a Sierra College student.
Part Two begins with Dugan Aguilar discussing an exhibition of his work at the Crocker Art Museum in Sacramento.
Part 1:
Part 2:
This presentation is presented in two parts. Part One – 71 minutes Part Two – 63 minutes. Introductions read by Gary Noy, Director emeritus of the Sierra College Center for Sierra Nevada Studies and former Editor-in-Chief of the Sierra College Press.
Photo credits:
Brian Bibby – Courtesy of Brian Bibby
Dugan Aguilar today – from the Native American Encyclopedia
Deeper Than Gold book cover – Courtesy of Heyday Books
---