High Sierra
Tom Killion
Artist/author
In May 2008, artist Tom Killion presented a lecture entitled "The High Sierra of California" to the Sierra College class named Interdisciplinary 6: The Sierra Nevada.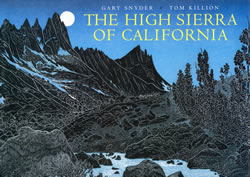 The presentation was based on the book The High Sierra of California (2002), which Tom Killion produced in collaboration with Pulitzer Prize-winning poet Gary Snyder. Using slides of his High Sierra woodcut prints, Tom presented the images with his own comments. Excerpts from Gary Snyder's High Sierra journals as well as some of the poems which developed out of these journal entries were also presented. Mr. Killion described his complicated multi-block printmaking process. He exhibited some of the original blocks as well as the hand-made original of The High Sierra of California.
Tom Killion was born and raised in Marin County, California, where the rugged scenery inspired him from an early age to create landscape prints using linoleum and wood. He studied History at UC Santa Cruz, where he was introduced to fine book printing by renowned poet William Everson.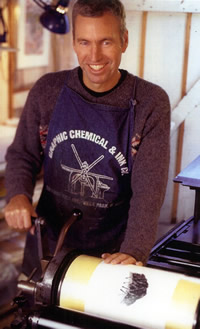 In 1977, Killion founded Quail Press, where he has printed four handmade art books depicting landscapes from California to Europe and Africa, working with poets such as Gary Snyder. Killion also holds a PhD. in African History from Stanford University, and has taught at Bowdoin College, Stanford, San Francisco State, and as a Fulbright professor at Asmara University in Eritrea. His studio is near Point Reyes, on the Marin coast.
Since this lecture in 2008, Tom has authored and illustrated Tamalpais Walking (2008), again in collaboration with Gary Snyder. Killion has had major exhibitions of his work at the Yosemite Museum (2009), the Commonwealth Club of San Francisco (2010), the Book Club of California (San Francisco), the Ansel Adams Gallery in Yosemite (2012), and the Thacher Gallery at the University of San Francisco (2012).
The following was part of a classroom presentation. As a result, there may be references to charts, diagrams, photos or other unseen imagery.
This presentation was originally a "SierraCast," a podcast from the Sierra College Center for Sierra Nevada Studies website, the Sierra Nevada Virtual Museum, which was online from 2005-2012.
This presentation begins with Tom Killion acknowledging the influence of poet Gary Snyder.
This presentation is 84 minutes. Introduction read by Gary Noy, Director emeritus of the Sierra College Center for Sierra Nevada Studies and former Editor-in-Chief of the Sierra College Press.
Photo credits:
Tom Killion in his studio – courtesy of Tom Killion
High Sierra book cover – courtesy of Heyday Books
---