Placer and Sierra College Timeline
1882 – Sierra Normal College is established in Auburn at the site of today's Placer High School.
1897 – Auburn High School is established in the old Sierra Normal College Building. It was a direct outgrowth of Sierra Normal College.
1903 – Placer High School District purchases the Normal College grounds and renames the high school. It is now called Placer County High School.
1906 – Sierra Normal College building is demolished and replaced with a $40,000 brick structure.
1914 – Placer Union High School District is born, stretching from Loomis to Lake Tahoe. College classes are offered at the Placer County High School. The college is called Placer Junior College. It was the indirect descendant of Sierra Normal College, which had given birth to Placer County High School.
1920 – Placer Junior College is abandoned due to enrollment loss caused by World War I.
1936 – Voters agree to reestablish the college in Auburn. The college is again named Placer Junior College. 1936 is the date that Placer/Sierra College uses as its official date of birth. Dr. John Napier is selected as the first college president. He will serve until 1941.
1936 – Placer Junior College athletes are called "Spartans." The first graduate of Placer Junior College is a young woman named Marion Sully. About 100 students are enrolled.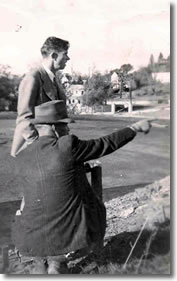 1935-1940 – Three wings of buildings were constructed to serve primarily Placer Junior College, but Placer High School students shared many of the facilities, instructors and organizations with the new college. The entire operating budget of Placer Junior College in its first year was … $8000.
1935–1940 – Placer Junior College gained a regional reputation for academic excellence. The scholastic ratings of the university, which ranked the academic achievements of institutions providing students to the university, reinforce the college's prestige. From 1935 to 1940, one hundred forty nine other schools placed students in UC Berkeley, but Placer College ranked first in academic accomplishment for the period.
1938 – 200 students are enrolled.
1939 – 282 students are enrolled. World War II begins.
1941 – The USA enters World War II. John Napier is replaced by Ernest Oertel. The 1941 attack on Pearl Harbor essentially ended enrollment by men as they went off to serve their country during World War II. The war became a daily presence on campus, even while the more light-hearted aspects of college life continued. Additionally, enrollment dropped significantly when Americans of Japanese ancestry were forced into internment camps.
1942 – Harold Chastain replaced Dr. Oertel, who left in 1942, and led the high school and junior college until 1956. During his tenure he was instrumental in establishing educational programs for returning wounded veterans at the DeWitt Army Hospital, north of Auburn. Mr. Chastain also instituted classes that were taught in the Lake Tahoe area.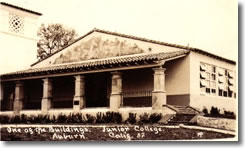 1943 – The student population dropped to 53 by 1943. And the college eliminated the "Junior" from its name.
1945 – As the war neared its conclusion in 1945, enrollment had edged up to 119. The war's end brought returning veterans, the end of internment, and the GI Bill of Rights. Enrollment in the post-war years exploded as a result.
1946 – 467 students were enrolled – half were veterans.
1948 – In 1948, Harold Chastain retained overall leadership of the school district, but Harold Weaver was appointed as Placer College president. Harold Weaver had arrived at the college as an instructor in 1938 and would continue to serve the college as president until 1971.
1949 – 856 students were enrolled in 1949 and the Placer College facility was bursting at the seams.
Early 1950s – The college had reached full capacity and efforts to find a new college location began. Two bond issues calling for a new campus were rejected in the early 1950s. The Bond issues predicted maximum enrollment for the college to be 1500 students. Area population continued to grow and the need for new facilities grew acute.
1950 – Placer College won the State Championship in Men's Basketball.
1954 – Placer College was renamed Sierra College. The college athletes gained a new nickname – "Wolverines."
1957 – A bond measure to establish a new Sierra Junior College District and to pay for new facilities was presented to the Placer County electorate and passed. A parade was organized in Auburn to promote passage of the bond. This parade was coordinated by Barbara Vineyard, member of the Board of Trustees from 1983 until 2010. The newly elected trustees selected Harold Weaver as President and District Superintendent of the new district.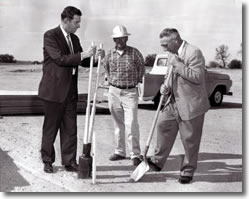 1958-1960 – In 1958, a site selection committee for the new campus was appointed. Thirty-five possible locations were considered until the present Rocklin site was chosen. The location near the Interstate highway then being constructed was a plus, but the land itself was far from inviting. Located on a largely bare knob of decomposed granite, the college site was quickly nicknamed "Sahara College." Bond issues to fund construction were passed and the Rocklin campus began to emerge.
1961 – The new Rocklin campus opened and enrollment reached 1500. Landscaping, under the capable direction of Ted Kitada, turned the campus into a garden.
1962 – In 1962 Nevada County joined a huge new Sierra Junior College District. It began in Roseville … and extended to the beautiful shores of Lake Tahoe. The Sierra Junior College District then had more square miles – 3,200 – than students.
1960s – Enrollment boomed in the 1960s. By the end of the decade Sierra College boasted 100 full-time faculty members, nine new campus buildings, and enrollment was nearly 4000. However, as fast as new facilities could be built, they were filled. The decade saw much student population growth. The student population increased by 45% in 1962 alone. A 32% increase happened the next year. And a 40% boost the next. By the turn of the 1970s, more than 4000 students were enrolled.
1970s – From 1970 to 1980, enrollment jumped from 4000 to nearly 10,000.
1971 – In 1971 Harold Weaver retired as college president and district superintendent. He was replaced by William Winstead who served from 1971 to 1974.
1974 – In 1974, William Winstead became ill and was replaced by Marion Akers, who served as president and district superintendent for a few months in 1975.

1975 – Gerald Angove was selected as the new president and district superintendent. President Angove would serve until 1993. A Nevada County native, Gerald Angove would be the driving force behind the establishment of the Nevada County Campus and in bringing the San Francisco 49ers to train in Rocklin.
1980s – Enrollment from 1980 to 1990 jumped from about 10,000 to nearly 14,000. Sierra College extended its own services with the opening of a child care center and expanded course offerings in Nevada County and other satellite centers.
1980s – The first discovery of dinosaur bones in Northern California was accomplished by a Sierra College instructor, Dick Hilton. In the sciences, Sierra College was, if not the first, one of the very first to accomplish the birth of an octopus in captivity.
1981–1997 – Sierra College received national recognition as the Summer training camp of the San Francisco 49ers of the National Football League. From 1981 to 1997, the 49ers trained in Rocklin. Arguably, their best years were a result of their Sierra College experience. The 49ers won five Super Bowls during their stay at the college, and have not won another one since leaving the friendly confines of Sierra.
1986 – 1986 marked the 50th official anniversary of the college.
1990s – The student population from 1990 to the year 2000 swelled from about 14,000 to nearly 18,000.
1990s – Sierra College scientific experiments rode on the space shuttle Endeavor.
1993 – Kevin Ramirez assumed the mantle of President and District Superintendent and continued to serve in that capacity until 2005.
1996 – The 105-acre Nevada County Campus was opened. Twelve locations were considered in the county until property between Grass Valley and Nevada City was chosen.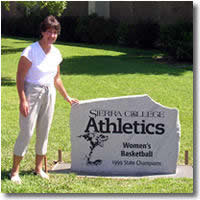 1999 – Sierra won the State Championship in Women's Basketball.
Early 2000s – the Football team had a nation-leading 37 straight victories and was nationally ranked for years.
2000–2005 – Sierra College's reputation continued to grow. The college became a state leader in transfers to the State University and college system. The completion of two-year degrees and certificate programs increased three-fold. In 2005, Sierra College ranked first in California for the awarding of associate degrees and #13 nationally.
2000–2005 – Additional centers were opened in the Tahoe/Truckee area and Roseville. And funding was provided for a new library at Twelve Bridges in association with the City of Lincoln and others. Classes were also taught at local high schools and community centers. Bonds were passed to fund additional construction in Truckee and on the Nevada County Campus.
2002 – The award-winning Standing Guard project chronicled the internment of Japanese-Americans during World War II.
2002 – The Center for Sierra Nevada Studies is formed, with the extensive involvement of Sierra College students, faculty, and staff and the regional community.
2005 – A Center for Sierra Nevada Studies project, The Sierra Nevada Virtual Museum, is launched. As of today, this award-winning website has had 400,000 visitors from 75 countries on six continents.
2005–2006 – Dr. Morgan Lynn was named as Interim President and District Superintendent.
2006 – Dr. Leo Chavez is selected as President and District Superintendent of Sierra Community College.
2011 – William Duncan is selected as President and District Superintendent of Sierra Community College to replace the retiring Dr. Chavez.
The Future – Projections of future enrollment top 25,000.
Former Sierra College Presidents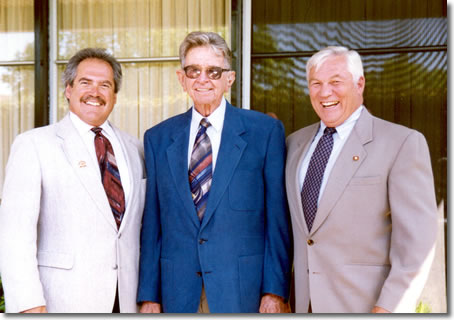 Dr. Kevin Ramirez, Harold Weaver and Gerald Angrove