"The Power of Trees"
Joe Medeiros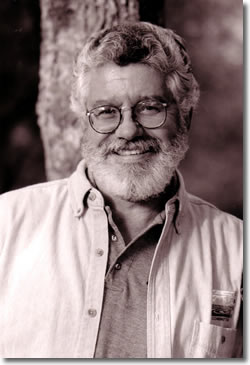 Joe Medeiros (1948– ) has hiked and studied in the Sierra Nevada for more than thirty-five years, led countless trips of students and mountain enthusiasts, served as a National Park Ranger at Devils Postpile National Monument in the southeastern Sierra Nevada, and loves to share photographs and stories about his favorite place in the world. Now professor emeritus, Medeiros taught biology at Sierra College, was coordinator of the college's Interdisciplinary Program, and continues to be involved in many campus events, such as Earth Day. He also taught for many years at Modesto Junior College and was director of that college's outstanding Great Valley Museum.
In the following essay, written especially for this anthology, Medeiros considers the power of four species of Sierra trees. It is a natural and philosophical reminder of the wonder and legacy of not only these extraordinary organisms, but the entire Range of Light as well.
Read by the author, Joe Medeiros. Recorded at a live performance on November 2, 2010.