"Eight Days in the Yosemite"
Grace Greenwood, New York Times, July 27, 1872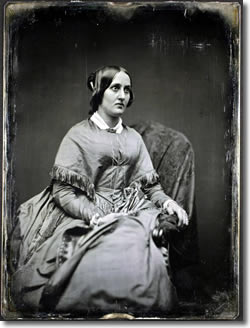 Born in New York as Sarah Jane Clarke, "Grace Greenwood" (1823–1904) adopted her pseudonym both in print and in her personal life. Greenwood contributed to many of the prominent journals of her day, although her positions on contemporary social and political issues often rankled her publishers. Taking uncompromising stances on the need for prison reform, the abolition of capital punishment, women's rights, and an end to war and slavery, Greenwood became a popular writer and lecturer during the Civil War period. President Abraham Lincoln dubbed her "Grace Greenwood the Patriot" for her fundraising efforts for the U.S. Sanitary Commission and for her frequent appearances before soldiers and patriotic organizations.
By the 1870s, Greenwood wrote primarily for the New York Times, and many of her articles were travel pieces commenting on the wonders and uncertainties of the American West. On July 27, 1872, the Times published Greenwood's "Eight Days in the Yosemite," an account of her adventures in the valley. The following passage's appearance in the anthology The Illuminated Landscape: A Sierra Nevada Anthology may be its first time in print since the nineteenth century. Greenwood's description of John Muir may also be the first reference to the famous naturalist in a national publication.
Read by Barbara Vineyard, President of the Sierra College Board of Trustees Recorded at a live performance on November 2, 2010