A Journal of Ramblings through the High Sierra of California, 1875
Joseph LeConte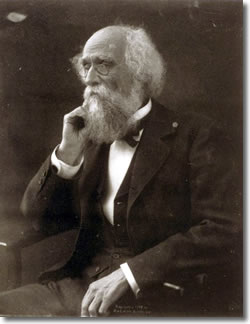 Joseph LeConte (1823–1901) earned his medical degree in New York and set up a practice in his home state of Georgia, but soon discovered that his true calling was geology. LeConte went back to school, studying geology at Harvard, and upon graduation taught natural science, chemistry, and geology at numerous colleges in the South. In 1869, Joseph and his brother moved to Berkeley, California, where they joined the teaching staff of the new University of California.
In 1870, LeConte embarked on a five-week horseback trip to Yosemite Valley and the High Sierra with a party that included other University of California students and faculty. The group would soon start a campaign to establish today's Yosemite National Park and to promote more recreational use of the Sierra. Some of this group's members were also responsible for urging the founding of the Sierra Club in 1892, with LeConte himself serving as director of the club for several years. A prolific author on a wide array of subjects, LeConte died during a 1901 Sierra Club excursion in Yosemite.
In this passage, LeConte recalls a 1870s "ramble" to Tuolumne Meadows with a party including John Muir.
Read by Gary Noy, Director, Center for Sierra Nevada Studies, Sierra College