Second DeAnza Expedition, April 2, 1776
From the diary of Friar Pedro Font
In the same year the Declaration of Independence was penned, California was still just a distant outpost of New Spain, the huge Spanish colony later known as Mexico. Although Spanish ships first visited its shores in 1542, more than two hundred years would elapse before the empire built its first permanent settlement in today's California—at San Diego in 1769.
In 1775 and 1776, the viceroy of New Spain made Juan Bautista de Anza the head of two separate expeditions to Northern California—the first to explore the area, and the second to lead more than two hundred people to settle the port of San Francisco. The expedition of 1776 was difficult, featuring biting sandstorms and one of the coldest winters on record, but the party—which included many lower-class families eager to start a new life in a faraway and unknown land—eventually reached its destination.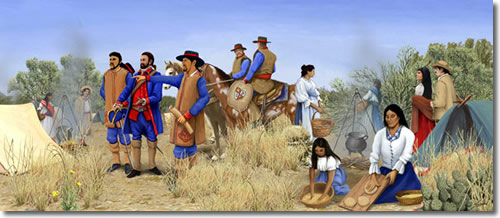 Friar Pedro Font, a Franciscan missionary, was chosen to accompany the expedition both for his services as chaplain and for his ability to read latitudes. It was while scouting for the expedition near today's Walnut Creek that the Friar observed something immense in the distance. He called it "a great Sierra Nevada," which means "snowy mountains" in Spanish. It was the first recorded use of the name to describe the mountain range.
Read by Rick Heide, co-editor of The Illuminated Landscape and editor of Under the Fifth Sun, an anthology of California Latino literature