Mary Townsend
(1814-c.1851)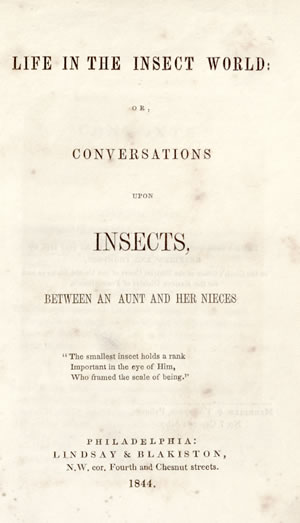 Mary Townsend was born in Philadelphia in 1814. She was a member of a prominent Quaker family that included her brother John Kirk Townsend, a well-known naturalist, and her brother Edward Townsend, President of the Philadelphia Institution for Instruction of the Blind and founding official of the Philadelphia Dental College.
Mary had recurring illnesses throughout her short life, including one that caused her to lose vision at times. She also had a lifelong interest in insects and their behavior.
In 1844, while bed-ridden, Mary Townsend wrote the book Life in the Insect World, or Conversations upon Insects, Between an Aunt and her Nieces. Published anonymously, the book was intended as a vehicle to introduce children to the natural world, but became popular among adults as well. Presented in twenty chapters, and based upon her own personal observations and those of other naturalists, Townsend presents the story of an aunt discussing insects with her nieces and friends. She discusses the habits, structures and behavior of many insects, including ants, termites, butterflies, silkworms, crickets, fleas, spiders, and fireflies. Townsend also describes her experiments with insects, including her microscopic observation of a flea and her attempts to feed ants.
Her book influenced many, including her close friend, the naturalist Graceanna Lewis, who wished to author a similar book on birds. In 1853, Swedish writer and feminist activist Fredrika Bremer, in her book Homes of the New World, recounted the effect Mary Townsend had on her readership:
Her little book for youth, "Life in the Insect World," is to me a welcome gift because it shows me a young girl who has made nice investigation into one of the natural sciences which I have often endeavored to excite young ladies to do but as far as I know without success, that is to say, biographical observations with regard to animals and plants. The turn for minute detail, acute perception of the lesser world, which is peculiar to woman, together with a poetic feeling which allies it to the spiritual—the universal, and which can discern in all things symbols of purpose rich in thought; these are all natural endowments which seem singularly to befit woman for that portion of science, and should in their pursuit and their application tend to make the searching soul richer in its daily life. Mary Townsend has treated her subject in this biographic and poetic manner and given in her work the history of the insect metamorphoses.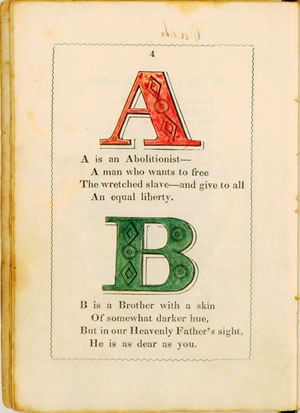 Mary Townsend is equally well known for a publication that was produced for the Anti-Slavery Fair of 1846 in Philadelphia. Ardent abolitionists Mary and her sister Hannah wrote and illustrated The Anti-Slavery Alphabet, which presented the alphabet in a primer targeted at children while espousing the abolitionist viewpoint. The book consisted of sixteen pages, with hand-colored illustrations, and was hand-sown into a paper cover. It sold briskly according to an 1847 report by the Philadelphia Female Anti-Slavery Society.
Sources are contradictory, but it appears Mary Townsend died in either 1849 or 1851, and she was only 35 or 37 years old.
Image Credits
- Townsend: Title Page of Mary Townsend, Life in the Insect World, or Conversations upon Insects, Between an Aunt and her Nieces (Philadelphia: Lindsay and Blakiston, 1844).
- Page from The Anti-Slavery Alphabet, written by Mary and her sister Hannah Townsend (Philadelphia: Merrihew and Thompson, 1846).