Maria Martin Bachman
(1796-1863)
Born in South Carolina in 1796, Maria Martin is best known as a skilled illustrator of flora and fauna who worked in collaboration with the famed naturalist and author John James Audubon.
Little is known of her childhood, but in 1827, at the age of 31, Maria began living with her ailing sister and her husband near Columbia, South Carolina. Maria's brother-in-law was clergyman and naturalist Reverend John Bachman. Through Bachman, Maria Martin met Audubon in 1831. John Bachman wrote or edited most of the text for Audubon's books.
Audubon encouraged Martin's evident talent in natural illustration and soon she was assisting him by painting the backgrounds for his watercolor portraits of birds. While Audubon focused on the birds, Martin painted the plants, insects and other natural features for Audubon's famous renderings of birds. Many of the painting or "plates" in Audubon's four volume Birds of America (published 1831-1839, featuring 435 hand-colored plates) use Maria Martin's backgrounds. Audubon utilized three assistants—Maria was the only woman. The Audubon Society named Maria's Woodpecker (Picus martinae) in her honor.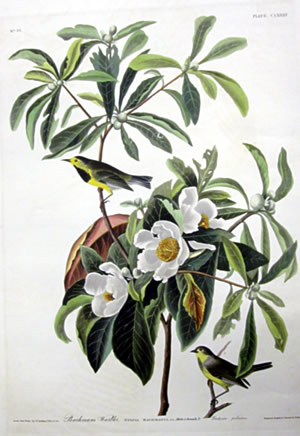 Maria's sister died in 1846 and, two years later, Maria Martin married her widowed brother-in-law John Bachman. She assisted Bachman in his work on the accompanying text to Audubon's three-volume Viviparous Quadrupeds of North America (published 1845-1848, 150 plates), and also contributed drawings to zoologist and naturalist John Edwards Holbrook's North American Herpetology (published 1836–1842).
Maria Martin died in South Carolina in 1863 at the age of 67.
Image Credits

- Martin: Portrait from Collections of the Charleston County (South Carolina) Public Library.
- Illustration of Bachman's Warbler, John James Audubon, Birds of America, plate 185, Number 38 (1833). Bachman's Warbler was named for Maria Martin's brother-in-law and later husband, Reverend John Bachman. In the illustration, Martin painted the plant upon which the bird rests.