Enid Michael
(1883-1916)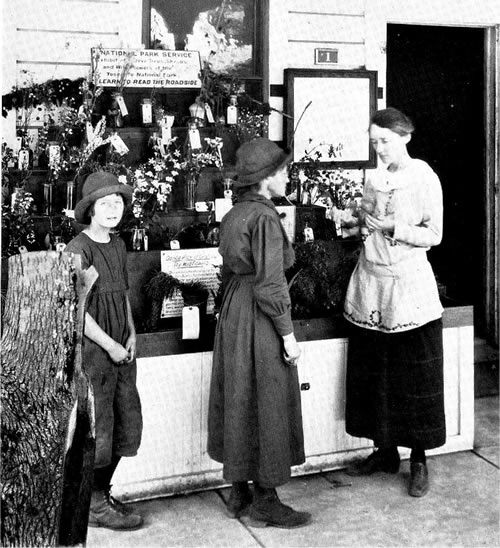 Enid Michael was the first ranger-naturalist in Yosemite National Park and is generally considered the first female naturalist in the National Park Service.
In 1919, at the age of thirty-six, Enid Reeves married kindred spirit Charles Michael in Yosemite Valley. They had met in the valley during a Sierra Club outing. Enid was interested in botany, Charles was fascinated by ornithology and both were rock climbers. At the time of their marriage, Enid was a public school teacher in Pasadena and she joined Charles in Yosemite where he was assistant postmaster.
In 1921, Enid Michael was appointed as a seasonal ranger by Park Superintendent Washington B. Lewis. She would continue serving as a ranger until 1942, a career which spanned four superintendents and three chief naturalists. Among the programs Superintendent Lewis instituted was the Nature Guide Service. In 1923, Lewis appointed Michael as a Nature Guide. Her duties included lectures and guided nature walks, scientific notation and collecting, and displaying botanical specimens for the public. In her first summer, over 810 species of flowers were displayed for the public—by 1929, she had collected and mounted 1,000 plant specimens as well as recorded 130 bird species in the park.
In 1930, Colonel C.G. Thomson replaced Lewis as Park Superintendent. He tasked Enid Michael with establishing a wildflower garden in the Yosemite Valley behind the Yosemite Museum, a project that Enid had championed.
Enid Michael also wrote extensively. She published more than 500 articles on Yosemite flora and fauna, including 172 articles for the Park Service publication, Yosemite Nature Notes. These writings constitute the largest body of work by any author on Yosemite.
In December 1941, Enid's husband Charles died. By 1942, all seasonal jobs were curtailed by the impact of World War II and Enid worked her last season as a ranger-naturalist.
Enid Michael died in 1966 at the age of 83.
Based in part on a biography of Enid Michael written by Lisa Rhudy for Yosemite Nature Notes Volume 46, Number 2 (1977)
Image Credit
- Michael: Enid Michael on right. Photograph from Yosemite Nature Notes, volume 48, number 2 (1977) National Park Service, Yosemite Natural History Association