Susan Fenimore Cooper
(1813-1894)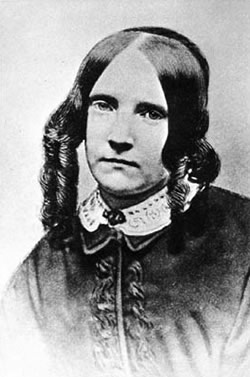 Susan Fenimore Cooper was a writer and amateur naturalist, who is best known for her 1850 book Rural Hours, her diary of nature and the environment near her hometown of Cooperstown, New York. She also wrote a novel, short stories, children's stories, and dozens of magazine articles on a wide variety of subjects. Susan was also the editor and manager of her father's literary legacy.
Susan Augusta Fenimore Cooper was born on April 17, 1813 in Scarsdale, New York, the daughter of the novelist James Fenimore Cooper and Susan De Lancey Cooper. James Fenimore Cooper was a famous novelist, best known for his "Leatherstocking Tales," such as The Last of the Mohicans. In the summer of 1813 the Coopers moved to Cooperstown, New York, the settlement founded by James' father, Judge William Cooper.
In 1826 James Fenimore Cooper was appointed United States Consul for Lyons, France. From 1826 to 1833 the Coopers lived abroad, based in Paris. During this period Susan received an excellent education through a private boarding school in France. Among her favorite subjects were botany and zoology.
When they returned from Europe in 1833 the family lived in New York City for three years, and then permanently settled in Cooperstown in 1836. Susan was 23 years old and became her father's literary secretary.
With help from her father, Cooper published her first book, a poorly received novel entitled Elinor Wyllys (1846), which she wrote under the pseudonym Amabel Penfeather.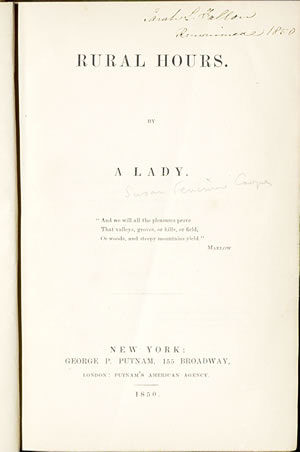 Rural Hours (1850), Susan's most famous work, is a journal of seasonal observations of the flora and fauna of upstate New York over a period of two years, as well as community life in the village of Cooperstown.
As Maggie MacLean states in her blog 'History of American Women,' "Rural Hours later fell out of favor, but interest in environmental writing and in Rural Hours has increased in recent decades. A new edition was published in 1998 along with a number of critical essays, most praising Cooper as one of the first American environmentalists and the first American woman to write essays on nature. Cooper has been credited with combining elements of sentimental fiction with the environmental concerns of nature writing to create a new subgenre called sentimental ecology."
Soon after Rural Hours was published, James Fenimore Cooper died in 1851 at the age of 61. Susan became his literary executor, editing his unpublished works and writing introductions to the reprints of his novels.
Susan Fenimore Cooper wrote essays and articles in popular publications of the day such as The Atlantic Monthly, The Freeman's Journal, Graham's Magazine, Harper's New Monthly and Putnam's Magazine. She edited five additional books, anthologies of her father's works, and several monthly magazines.
Susan Fenimore Cooper was also involved in philanthropy, including assistance to education for children, aid to poor families and orphans, and the establishment of hospitals.
Susan Fenimore Cooper died in her sleep on December 31, 1894 at age 81.
Based upon material from the excellent blog, History of American Women, by Maggie MacLean, www.womenhistoryblog.com
Image Credits
- Cooper: Portrait from the Collections of the James Fenimore Cooper Society website, website sponsored by the State University of New York, Oneonta. Portrait believed to be from the mid-1850s, photograph by W.G. Smith, Cooperstown, New York.
- Title page from Cooper's Rural Hours (New York: Putnam, 1850), from the Collections of the J. Willard Marriott Library, University of Utah.