Recent Sierra Nevada Geology
Frank DeCourten
Earth Science, Sierra College
In February 2006, Frank DeCourten, geology instructor at Sierra College, spoke on recent Sierra Nevada geology to the Sierra College class named Interdisciplinary 6: The Sierra Nevada.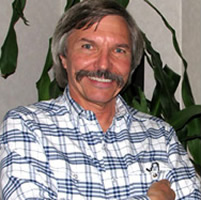 Frank DeCourten is an earth science instructor at Sierra College. He is also the former Interim Vice-President of Educational Programs and Services at the college and former Dean of the college's Truckee Campus. He earned his Bachelors and Masters of Science degrees from University of California, Riverside. Prior to arriving at Sierra College in 1993 as Professor of Geology/Earth Science, he taught at the University of Utah and served as Assistant Director of the Utah Museum of Natural History. Frank has written four books, including The Broken Land, and has produced three educational videos. A second edition of his Dinosaurs of Utah is out in January 2014.
This presentation focuses on the past 10 million years of geological history in the Sierra Nevada. This is the time when dramatic pulses of uplift, produced by intensive faulting along the eastern escarpment and accompanied by widespread volcanic activity, induced vigorous erosion that shaped the modern landscape. Superimposed on these geological changes, glaciers and ice caps developed over the rising Sierra crest in response to the episodic deterioration of the Earth's climate, further sculpting the extraordinary alpine scenery of the region. The discussion also addressed the contemporary geological setting of the eastern Sierra with emphasis on the development, seismic setting, and geological hazards of the Tahoe Basin and Mammoth regions.
The following was part of a classroom presentation. As a result, there may be references to charts, diagrams, photos or other unseen imagery.
This presentation was originally a "SierraCast," a podcast from the Sierra College Center for Sierra Nevada Studies website, the Sierra Nevada Virtual Museum, which was online from 2005-2012.
This presentation begins with Frank DeCourten describing the origins of the Interdisciplinary program at Sierra College and his role in the development of the program.
This presentation is 62 minutes. Introduction read by Mary Helen Fein, owner of Parallax Designs in Auburn, California, and co-designer of the award winning Sierra Nevada Virtual Museum, the website of the Sierra College Center for Sierra Nevada Studies, which was online from 2005-2012.
Photo credits:
Frank DeCourten – courtesy of Frank DeCourten
---