Adventures in the Sierra Nevada
Royal Robbins
Royal Robbins Clothing
In March 2006, pioneer rock climber Royal Robbins, whose "clean climbing" techniques inspired a generation of skillful climbers, spoke on his adventures in the Sierra Nevada to the Sierra College class named Interdisciplinary 6: The Sierra Nevada.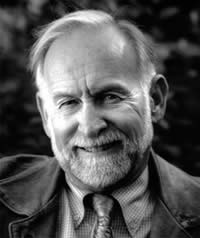 In this Sierra Cast, pioneer rock climber Royal Robbins, whose "clean climbing" techniques inspired a generation of skillful climbers, discussed the Sierra Nevada as opportunity and inspiration. As one of the most influential American rock climbers of the twentieth century, his first ascents of steep rock walls in Yosemite and Europe create a long list. In 1957 he was the first to ascend the Northwest face of Yosemite's Half Dome and later added routes up El Capitan, Sentinel Rock, Royal Arches, Washington Column, and the Cathedrals.
A high school dropout who discovered the great out-of-doors in the Boy Scouts, Robbins began his climbing career in Southern California. After a stint in the Army he traveled to Europe where he applied skills developed in Yosemite to the mountains of Switzerland and France. After years of teaching climbing in the Alps and the Sierra Nevada, he put his knowledge into two technique books that together have sold over 400,000 copies. In 1968, Royal and his wife Liz formed Mountain Paraphernalia which later evolved into the highly successful Royal Robbins outdoor clothing line. In 1978 he took up whitewater kayaking and in the following years made first descents on thirty rivers in California and Chile.
Robbins discussed the Sierra Nevada as the perfect playground for the outdoor enthusiast and why the physical qualities of this famous mountain range are important to highly technical outdoor sports like rock climbing and whitewater kayaking. He reviewed his experiences in the Sierra Nevada, from climbing on Yosemite's vertical walls to the famous first descent of the frothy headwaters of the San Joaquin River. His biography, Royal Robbins: Spirit of the Age, by Pat Ament, was published in 1992. Since this presentation in 2006, Robbins has published his autobiography, To Be Brave—My Life, Volume One (2009), Fail Falling—My Life, Volume Two (2010) and The Golden Age—My Life, Volume Three (2012).
The following was part of a classroom presentation. As a result, there may be references to charts, diagrams, photos or other unseen imagery.
This presentation was originally a "SierraCast," a podcast from the Sierra College Center for Sierra Nevada Studies website, the Sierra Nevada Virtual Museum, which was online from 2005-2012.
This presentation begins with Royal Robbins describing what he means by "Adventures in the Sierra."
This presentation is 51 minutes. Introduction read by Joe Medeiros, Professor of Biology at Sierra College and Editor-in-Chief of the Sierra College Press
Photo credits:
Royal Robbins – courtesy of Royal Robbins
---