Ancient Sierra Nevada Geology
Dr. Laird Thompson
Geologist
In January 2006, Dr. Laird Thompson, professional geologist, spoke on ancient Sierra Nevada geology to the Sierra College class named Interdisciplinary 6: The Sierra Nevada.
While the high Sierra granites may seem monotonous—glaciated gray rock forming sharp peaks along its spine and grand faces at Yosemite—the story of the Sierra and California is one of constant change. The foothills are filled with accreted terraines, exotic blocks and mélanges that have carried rocks and fossils to California from the far side of the Pacific Ocean across to Nevada and Utah. The present landscape is an amalgam of volcanic lava, tortured sediments and rocks shattered by innumerable earthquakes. California remains at the convergence of two massive plates; and this creates a geology that is still young, vibrant, and active. Dr. Thompson's lecture covers the mechanisms that have created California and the Sierra; the history of California over the past 1.5 billion years; a survey of the local rocks in the foothills and high country; and frames the human impact on the geology and the potential for the geologic impact on humans.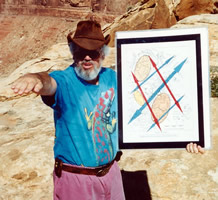 Dr. Laird Thompson is an industry recognized expert geologist in borehole imaging interpretation and characterization of fractured reservoirs of petroleum. He is Adjunct Professor at Utah State University who lives near Auburn, California, and spends part of each year rafting and exploring the American River Canyons. His interests include seismic potentials in the Sierra foothills and he has written about the potential perils of building the Auburn Dam.
The following was part of a classroom presentation. As a result, there may be references to charts, diagrams, photos or other unseen imagery.
This presentation was originally a "SierraCast," a podcast from the Sierra College Center for Sierra Nevada Studies website, the Sierra Nevada Virtual Museum, which was online from 2005-2012.
This lecture begins with Dr. Laird Thompson providing a general description of Sierran geology.
This presentation is 56 minutes. Introduction read by Gary Noy, Director emeritus of the Sierra College Center for Sierra Nevada Studies and former Editor-in-Chief of the Sierra College Press
Photo credits:
Dr. Laird Thompson – courtesy of Laird Thompson
---