The Glaciers of California
Tim Palmer and Dick Hilton
Authors, Photographers, Geologists and Outdoor Enthusiasts
On October 26, 2012, Tim Palmer and Dick Hilton spoke on "Insight," a public affairs discussion program on Capitol Public Radio in Sacramento. The host of "Insight" was Beth Ruyak. That weekend, Sierra College Press and Sierra College Natural History Museum presented two lectures by Palmer and Hilton in a series entitled Glaciers: Going, Going, Gone?
Nestled high in the mountains of California among snowy peaks, alpine forests, and flowing rivers lies an age-old phenomena that is slowly fading from existence: the glaciers of California. This stark world of slow-moving ice has nourished our state's rivers and habitats, has provided water to our farms and cities, and sustains life as we know it.
But now, a victim of climate change, California's glaciers are receding at an alarming rate. In this presentation, Tim Palmer and Dick Hilton discuss the past, present and future of California glaciers.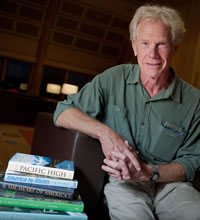 Tim Palmer has written seventeen books about the American landscape, conservation, adventure travel, and rivers. California Wild, a text and photographic book, won the Benjamin Franklin Award for the best book on nature and the environment in 2004. Palmer wrote the text for the Yosemite Association's Yosemite: The Promise of Wildness, which received the Director's Award from the National Park Service as the best book of the year in 1997.
His books include Rivers of America, which features 200 color photos of rivers nationwide, and Luminous Mountains, published by Heyday in collaboration with the Yosemite Association. Palmer has traveled extensively through the Sierra by foot and on skis, with his canoe and whitewater raft, and in his well-equipped van. In 2012, Palmer authored The Glaciers of California (Heyday and Sierra College Press), which featured nearly 100 of his photographs of California's vanishing glaciers.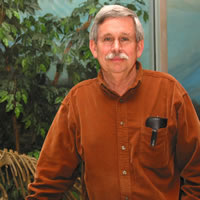 Dick Hilton, who is featured separately in this Journal discussing Dinosaurs of the Sierra Nevada, is a professor of geology and paleontology at Sierra College. He has a Bachelors degree in Geology with a minor in Biology, and a Masters degree in Earth Science from California State University, Chico. He is a paleontological consultant and an avid nature photographer.
He is Chair of the Sierra College Natural History Museum, and a board member of the California State University Chico, Geoscience Board and the Northern California Natural History Museum. He is a member of the California Natural History Film Project. Hilton has published numerous scientific articles in the field of vertebrate paleontology and a book entitled, Dinosaurs and other Mesozoic Reptiles of California, (University of California Press, 2003). Dick made the first discovery of dinosaur bones in Northern California.
This presentation begins with Dick Hilton discussing how his students react to the idea that the Sierra Nevada was once covered with ice.
This presentation is 11 minutes.
Photo credits:
Tim Palmer – courtesy of Tim Palmer, photo by Anthony Clark
Dick Hilton – courtesy of the Sierra College Natural History Museum, photo by Mike Price
---