Foreword
by Robert Hanna
Range of Light Clothing

Hetch Hetchy …one of nature's rarest and most precious mountain temples.

For more than 100 years the glorious Hetch Hetchy Valley in Yosemite National Park has patiently waited for the world to set it free from one of the worst mistakes America has ever made.
A near-exact counterpart of the great Yosemite Valley, Hetch Hetchy's transcendental beauty captivated my great-great-grandfather, John Muir. He described it as "one of nature's rarest and most precious mountain temples."
Hetch Hetchy was once the great hall of entrance to the Grand Canyon of the Tuolumne. Upon entering, one was instantly met by a breathtaking valley floor, blanketed by soft, knee-high grasses and thousands of the most exquisite Sierran flowers. Luxuriant groves of pines and oaks were sprinkled around the valley. They perfectly complemented the crystal-clear Tuolumne River that meandered ever so gracefully right through the middle of this celestial wonderland.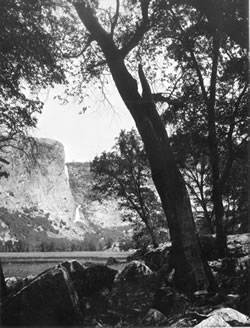 Standing guard on the Valley's south wall was the great Kolana Rock, a massive granite spire rising over 2,000 feet above the valley floor. Directly across from Kolana, along the north wall, thundered a pair of the most breathtaking waterfalls in the world. Tueeulala and Wapama are two of the tallest waterfalls in North America.
Longer than three miles, this incredible valley offered its irreplaceable beauty to all who laid eyes on it. Sadly, even Yosemite's twin valley found itself threatened by those who would unimaginably destroy this incredible treasure.
Beginning around 1890, politicians from the City of San Francisco began to set their sights on Hetch Hetchy as one of several options for the location of a reservoir to satisfy its water needs. Most thoughts of this consideration were all but erased when Yosemite National Park (including Hetch Hetchy Valley) was established the same year. However, even with Hetch Hetchy protected within the boundaries of Yosemite National Park, San Francisco Mayor James Phelan still proposed damming the Hetch Hetchy Valley.
Both of Mayor Phelan's applications to obtain a permit for water storage in Hetch Hetchy were swiftly denied by the Secretary of the Interior, at least partly because Hetch Hetchy was in a National Park. In 1905, San Francisco politicians doggedly appealed, arguing that a reservoir would only enhance the Park's beauty. Their arguments failed to convince otherwise and the appeal was denied by the end of the year. With this denial, it seemed that Hetch Hetchy would finally be spared from the threat of being inundated.
It was known all along that there were multiple alternative options for the city to obtain the water it sought, many of which also came with a much cheaper price tag. Just as city leaders planned to drop their pursuit of Hetch Hetchy and seek water elsewhere, a major event happened that would forever change the story of the battle to save the Hetch Hetchy Valley.
And Then…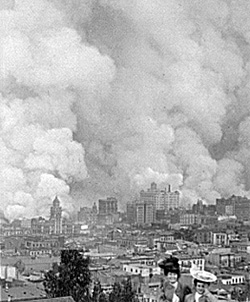 On the morning of Wednesday, April 18, 1906, a devastating earthquake struck San Francisco. As a result of the fires and earthquake, around 3,000 people were killed and vast portions of the city were destroyed. Review of the tragedy shows that fractured waterlines, inadequate equipment and poor planning were the reasons that the flames were not extinguished in time. But this opportunity was seized upon by San Francisco's political leaders. They used the emotional leverage brought about by the earthquake and fire to once again target the Hetch Hetchy Valley.
Ethan Hitchcock—the Secretary of the Interior who had repeatedly denied San Francisco's applications—resigned in 1907 and was replaced by James Garfield. Garfield was well-connected to those in favor of damming Hetch Hetchy. In 1908, when the city once again filed a petition asking to reopen its application for the water rights to Hetch Hetchy, Garfield decided in favor of San Francisco. The political deck quickly began to stack against those trying to protect Yosemite Valley's twin.
My great-great-grandfather, then in his late sixties, would roll up his sleeves and fight for what would ultimately be his last battle. For six years he fought with everything he had to protect his beloved Hetch Hetchy Valley, only to see it condemned and ultimately taken from the world when President Woodrow Wilson signed the Raker Act in 1913. With one whip of the pen, the Hetch Hetchy Valley was lost.
I've heard every family story and studied every word written by my great-great-grandfather. He passionately fought for the places he loved until the very end and taught our nation that nothing would be safe from commercialism. Before his death he wrote to his daughter, "No matter, for I've had a grand life in these divine mountains and I may yet do something for those coming after me."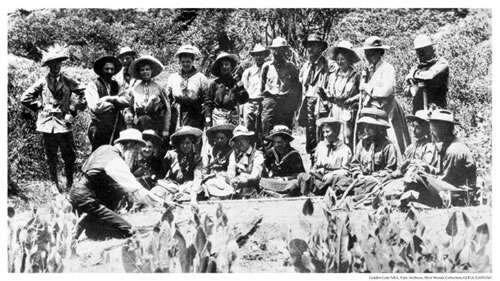 Hidden Beauty
Today the once beautiful Hetch Hetchy Valley lies submerged under 300 feet of water—waiting to once again reveal its beauty to the world. Multiple federal, state, and academic reports have each concluded that the Hetch Hetchy Valley could be restored while continuing to meet all of the water and most of the power needs of the communities who rely on the Tuolumne River project.
Throughout history there are countless examples of how we've come to recognize the mistakes made in haste and greed by those before us. Each and every one of these mistakes that we've corrected has faced fierce opposition from those who resisted such restorative change.
We again have a grand opportunity to forever change the world. There is literally no other place on Earth where we can bring back another Yosemite Valley. The return of Hetch Hetchy to the world would serve as a living international classroom, witnessed by all—perhaps the greatest environmental restoration in history.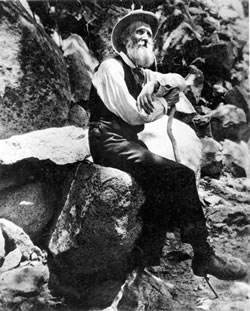 Last Christmas Eve, 2014, marked the 100th anniversary of my great-great-grandfather's passing and I, among thousands, are more determined than ever to finish John Muir's final and most noble battle. There would be no better way to honor his legacy than by returning this incredible treasure back to the world and uniting the two Yosemites once again.
The time is now to resurrect Hetch Hetchy! Now, more than ever, we should muster the same human passion and ingenuity that built the waterworks. This time, however, we should use it to dismantle the portion that violates our solemn promise to protect and preserve Yosemite and all other national parks.
Our plans are bold and not so complex. Their results leave San Francisco with its cherished Tuolumne water while returning our grand Hetch Hetchy back to its rightful owners: all of us! San Francisco will continue to flourish and Hetch Hetchy's grasses, wildflowers, and forests will return to enrich our children and grandchildren.
It's time to bring the nation back into this important discussion about the restoration of the Hetch Hetchy Valley.
Not only can we do this, but we should do it!
Images Credits
- Wapama Falls from Hetch Hetchy Valley Floor, Photo by Joseph N. Le Conte, Sierra Club
- San Francisco earthquake and fire of 1906: Library of Congress
- Muir possibly in Hetch Hetchy - National Park Service
- Muir sitting- National Park Service