Reign of the Sierra Storm King: Weather History of Donner Pass
Mark McLaughlin
Author and Historian
For more than 150 years, unpredictable and overwhelming snowstorms in the Sierra Nevada have challenged many who dared to cross this mountain range during the winter months of October through May. Hardy pioneers, burly railroad men, and modern motorists have all dealt with the awesome power of what I call the Sierra Storm King. When he asserts his meteorological power over this rocky domain, travelers beware.
Born under Mesozoic seas 220 million years ago, its highest peaks now scrape the sky at 14,496 feet. Easily the largest single mountain range in the lower forty-eight, the majestic Sierra Nevada encompass an area nearly as large as the French, Swiss and Italian Alps combined. During the summer months, crystal clear alpine lakes dot the forested landscape while stubborn snowfields cling to the north slopes below ridgeline. Glacial epochs have scoured and polished the Sierran granite so that it reflects sunlight with stark clarity. John Muir, 19th century naturalist and first president of the Sierra Club, loved these mountains, as did famed photographer, Ansel Adams, who called them the Range of Light. The sublime vistas have inspired adventurers, poets, and tourists for generations.
Click on the images
for larger versions.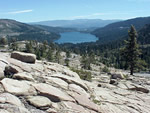 In 1776, Padre Pedro Font gave the name Sierra Nevada to the hulking mountain range on the eastern fringe of Spanish California, as well as to the southern Coast Ranges. In Spanish, "Sierra" means mountains (plural) and "Nevada" means snow-covered. In practice, however, Sierra Nevada had been a common descriptive Spanish name used by 18th century California explorers and cartographers for any range covered with snow. For early American settlers struggling with ox-drawn farm wagons, crossing the rugged range ranked as the most difficult obstacle in their 2,000-mile trek to the Pacific. Fantastic tales of an endless summer paradise in coastal California were tempered by the fear of mind-boggling snowfall in the mountains.
Donner Pass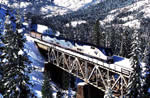 Although there are nearly a dozen trans-Sierra routes, Donner Pass is the most notorious of all Sierra crossings. For more than a century and a half severe weather and rugged topography have combined to challenge those taking this route. Chief Truckee, a Paiute Indian chief first pointed out the unnamed 7,239-foot pass to the Stephens Party in 1844. Heavy November snowstorms forced this group into a winter survival camp along the Yuba River while some men went for help. Bred for endurance and blessed with luck, all 50 men, women and children survived the ordeal. Despite their serious hardships, two babies were born on the way. The second was born in the winter encampment and named Elizabeth Yuba Murphy, the first Anglo baby born in the Sierra. The members of the Stephens-Murphy-Townsend party became the first American emigrants to haul wagons over the mountains, thereby opening the long-sought California Trail. Two years later, the pass gained perpetual notoriety as well as its infamous moniker when the Donner Party was caught east of the summit by early winter storms. Trapped for months with diminishing food supplies, the starving pioneers were reduced to cannibalism. Nearly half of the 81 settlers stranded at the camps died before reaching sunny California.
The snow was already 3 to 5 feet deep on the summit when the Donner Party arrived on Halloween. More storms in November closed the pass for the winter forcing the party to wait for rescue teams from the Sacramento Valley of California. There were 10 major storm periods that winter, beginning October 16, 1846, and ending April 3, 1847, with intervening fair weather. Hard as the successive storms were to take, physically and mentally, the sunshine and thaws between them gave rise to false hopes that the winter was breaking. In mid-December a lull in storm activity encouraged 15 of the party to attempt a crossing on homemade snowshoes. Provisioned with only enough food for one week, it took them 33 days to reach the first ranch on the Sierra west slope; only seven survived their ordeal of fatigue and starvation, including all five women who set out.
Donnor Party Diary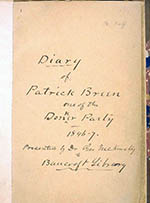 Emigrant Patrick Breen kept a diary recording the weather from November 20 until his family was rescued around March 1, 1847. On November 29, 1846, Breen wrote: "Still snowing now about 3 feet deep, wind West. Killed my last oxen today. Will skin them tomorrow. Gave another yoke to Fosters. Hard to get wood." The following day his entry read, "Snowing fast. Wind W. About 4 or 5 feet deep, no drifts. Looks as likely to continue as when it commenced. No living thing without wings can get about." The emigrants were still there three months later, their crude cabins buried under the snow. Stumps of trees cut by the emigrants ranged from 15 to 18 feet in height, indicative of the exceptional snowpack.
In 1849 the region was invaded by history's greatest gold rush. Hordes of miners, merchants, prostitutes and desperadoes flocked to the diggings on the Sierran west slope. Just one year later, California joined the Union as the Golden State. Californians believed that a transcontinental railroad was needed to stitch the nation together, but Congress and investors doubted that iron rails could be linked over the Sierra Nevada. Theodore Dehone Judah, a young New York-trained engineer who believed that he could snake the tracks through the snowbound mountains, persuaded Congress to pass the Pacific Railway Act.
Theodore Judah had considered the problem of snow in his exhaustive study of the best route over the Sierra. In order to find some comparison, on his business trips east Judah made a point of examining the snow situation on some of the higher rail crossings of the Appalachians. He observed enough track mileage successfully operated in heavy snowfall environments to feel confident that Sierra snowstorms would not be a problem. In reality Judah had little information regarding the prodigious Sierra snowpack and Central Pacific was later forced to construct 37 miles of expensive wooden snowsheds in order to protect track and trains. The visionary Judah never saw his railroad to completion. He died of Yellow Fever on Nov. 2, 1863, at the age of 37.
After Judah Came Sherman
William Tecumseh Sherman, who later became a Union General in the Civil War, was an experienced engineer and surveyor familiar with the Sierra range. When he heard of Judah's plans he wrote his brother of the project: "If it is ever built, it will be the work of giants." Those giants were diminutive Chinese laborers who shoveled, picked and blasted their way through the Sierra's granite spine. James Harvey Strobridge, superintendent of construction, did not want to use the foreign labor force, but California's white laborers were mostly undisciplined gold miners. Strobridge later said, "Labor sufficient for the rapid construction of the Central Pacific was then not on the coast and the labor as it existed could not be depended upon if the first mining excitement meant a complete stampede of every man and a consequent abandonment of all work." The Chinese had built the Great Wall; they would build the Sierra portion of America's Great Rail too.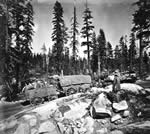 To conquer the Sierra by rail was an epic undertaking. Virtually all the construction materials had to be shipped from New York around Cape Horn to San Francisco, a voyage of 19,000 miles. Twelve thousand Chinese laborers endured blinding blizzards and lethal avalanches to push the railroad over storm-swept Donner Pass. Where a roadbed could not be built, a tunnel was chipped and blasted out. In the heavy snowbelt between 6,000 and 7,000 feet, nine tunnels were excavated, totaling 5,158 feet in length. Rail by rail, the hard-working Chinese crews pushed the track east, reaching Donner Summit on November 30, 1867. Winter storms took a heavy toll on the laborers, but the transcontinental railroad was finally completed in May 1869.
1866-7: 44 Storms and 44 Feet
Forty-four storms during the winter of 1866-67 dumped 44 feet of snow on Donner Summit. The biggest produced 120 inches in 13 days. One avalanche that winter wiped out an entire work camp; when the bodies were discovered the following spring, work tools were still clutched in their frozen hands. Shortly after, another slide near Tunnel No. 9 swept twenty Chinese laborers to their death. The following winter was no better. Sub-tropical storms deluged the region with more than 40 inches of rain in December 1867, causing extensive flood damage. Although the weather was eerily calm for much of January and February, in early March 1868, a fierce blizzard dumped 10 feet of snow in five days. The Virginia City Territorial Enterprise newspaper stated, "This winter has been pretty rough on the Chinese along the line of the railroad, and a great number of them have been killed and crippled by similar accidents at various points on the road." Winter storms took a heavy toll on the laborers, but the transcontinental railroad was finally completed in May 1869.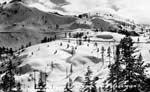 The railroad made the Sierra crossing much more comfortable, but danger still lurked. In January 1890 a relentless barrage of blizzards and a derailed train shut down Donner Pass for 15 days. In addition to the armada of snowplows and railroad crews, nearly 5,000 snow shovelers were hired to help clear the tracks, but the 66 feet of snow that fell that winter overwhelmed their efforts. For journalist Nellie Bly, the Sierra snow blockade nearly stymied her attempt to circumnavigate the globe in less time than novelist Jules Verne's fictional voyage "Around the World in 80 Days."
Around the World With Nellie Bly
Nellie Bly, a 23-year-old journalist for the New York World newspaper, was circling the globe in an effort to beat the French novelist's fantasy journey. Bly shipped out eastbound from New York to London on November 14, 1889.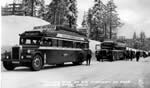 At the train station in Amiens, France, Jules Verne met the young lady who was bringing his story to life. She traveled by mail train to Brindisi, Italy, and then sailed through the Mediterranean, continuing on to India. By the time Nellie Bly reached San Francisco, she had used up 68 days. Unfortunately for Nellie, the news she received in San Francisco was not good. Donner Pass, blocked by blizzards, avalanches and train derailments, would not be open for days. Her second problem was the "Nellie Bly Escort Corps," which consisted of her two New York editors, as well as other professional associates from the East. The members of this elaborate delegation were trapped on the eastern side of the Sierra in Reno, Nevada. It seemed that after circling most of the globe, a California snowstorm was going to foil her success as a real-life Phileas Fogg.
All was not lost, however. Nellie's editor, John J. Jennings, had somehow managed to reach Donner Summit before railroad officials shut down all westbound traffic. Jennings caught a ride on a snowplow until it was hit by avalanche. He survived but the machine was disabled. Despite sober advice for Jennings to remain with the plow, the resourceful editor found himself a pair of eight-foot-long wooden skis, the first he had ever seen. He skied all night until he broke past the blockade site where he could get a train to Sacramento. Jennings remarked, "I have seen snow and blizzards in New York, but the people back there don't know what snow is."
For the millions of Americans reading about the drama in their hometown newspapers, the tension was electric. Embarrassed Central Pacific officials rerouted Bly and Jennings on a special express train south into the California desert and then east to Chicago. Nellie Bly arrived back in New York City on January 25, 1890, having traveled 72 days, 6 hours, and 11 minutes in her epic, planet-circling journey.
1952: 8 Day Blizzard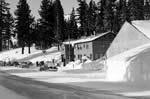 During the winter of 1952 powerful pacific storms inundated the Sierra. When an avalanche struck the luxury streamliner train "City of San Francisco" on January 13, the event made national news. On Sunday morning, January 13, 1952, Truckee-Tahoe residents were three days into an eight-day blizzard. An intense vortex of low pressure had stalled off the California coast in a position favorable for heavy amounts of snow. Despite the best efforts of California road crews on this fateful Sunday, all northern Sierra passes were closed due to deep snow or avalanches. Only Southern Pacific trains were still crossing the Sierra, rumbling through snowsheds and tunnels, which made their passage possible. All that changed at 11 a.m. when one of SP's luxury streamliners, the City of San Francisco, rammed an avalanche east of Donner Pass. Despite three 2,250 horsepower diesel-electric engines, the train stuck. There were 226 passengers and crewmembers on board the 15-car westbound train, but everyone assumed that the powerful $3 million train would not be there long.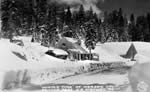 Their laissez-faire attitude turned to anger when they were still snowbound 24 hours later. The wind was fierce, howling at speeds in excess of 90 mph and drifts towered 20 to 30 feet. Many feared it would be just a matter of time before another avalanche would shove the entire train into the dark ravine below. On Monday night, 36 hours into their ordeal and with no rescue in sight, the supply of diesel fuel ran out, cloaking the train in a cold eerie darkness lit only by softly glowing emergency lights. Even as the blizzard raged, SP rescue trains were inching their way closer from both east and west toward the stranded streamliner. One train carried dogsled teams while the Sixth Army trucked in trained arctic rescue squads over partially cleared Highway 40 (now Interstate 80). Military doctors and nurses aboard military weasels snow vehicles were rushed to the likely rescue points. Helicopters were grounded by the storm, but stood ready to fly at first chance.
Heroic Effort by Rolland Raymond
A Southern Pacific rotary snowplow, manned by engineer Rolland Raymond of Sacramento, finally broke through to within a quarter mile of the buried train. Raymond climbed down from the snow-streaked rotary in order to survey the hazardous conditions. Without warning, an avalanche roared down the mountainside and swept the would-be rescuer to a violent death. On January 16 the storm suddenly broke, giving relief operations a chance to reach the train. Pacific Gas and Electric Co. employee Jay Gold, 33, was the driver of the first bulldozer opening the trail. His efforts enabled doctors to reach sick passengers with medicine and allowed others to bring food supplies. Tragically, the exertion proved overwhelming for the heroic young man and he died of a heart attack shortly after.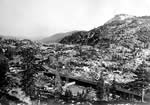 The critical mission had taken three days and two lives, but all 226 passengers and crew were saved. From Jan. 10 to Jan. 17, nearly 13 feet of snow fell. The winter of 1951-52 dumped nearly 65 feet of snow on Donner Summit and the snowpack reached 26 feet deep, the greatest depth ever recorded there. For three days rescuers battled heavy snow and 100 mile per hour winds. Two men died in the ultimately successful effort to save the 226 passengers and crew.
Despite increasingly effective snow removal technologies, the Sierra Storm King will continue to cause havoc with those daring to cross Donner Pass during the winter months. In fact, the advent of the Sport Utility Vehicle has given drivers a false sense of security, adding to the frequency of road closure due to accidents. The power and brawn of the new SUV has inflated egos so that hubris often exceeds common sense. For 150 years winter travelers over Donner Pass have been warned, "Stay smart or stay home."
*The summit's 135-year-old weather record began in 1870 (longest in the Sierra Nevada) when Central Pacific Railroad started recording precipitation and snowfall amounts at Summit Station, located in Norden at elevation 7,017 feet. Station clerks were supposed to measure precipitation every eight hours, but reliable information about their adherence to any consistent methodology is limited. Even so, these early measurements are vitally important for reconstructing historic weather events and 19th century snowfall accumulations. Modern records indicate that the average annual precipitation in the Donner Pass region is about 54 inches, which includes 34.12 feet of snow.