Lee Stetson - a profile
An interview with the actor
Actor, Mariposa County Supervisor
When did you arrive in this area? What were your first impressions?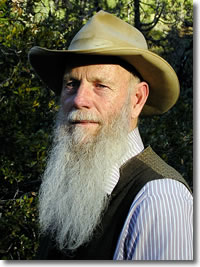 I arrived in Los Angeles as an actor after receiving my academic training in Hawaii and Massachusetts. I was privileged to spend time in some breathtaking spots in Hawaii, Oregon, and Idaho. And then I was very fortunate to receive a biography of John Muir and began exploring the Southern Sierra, moved by the descriptive poetry of Muir. In April 1982, I visited Yosemite for the first time—the moonlit vistas of Columbia Point, the Yosemite Valley, and other locations within the park more than exceeded my expectations. In fact, the very next day I obtained a job as a desk clerk with one of the concessionaires in the park.
Describe what you do.
For the past 23 years, I have produced interpretive stage productions focusing on the themes of land use, environmental ethics, and the concept of engaging wilderness. This has been mostly through my presentations of Muir's work. Since I am using Muir's words extensively in my plays, I guess my art is a mix of interpretation and reinterpretation of the themes that Muir engaged. My circumstances have been extremely fortunate and my performances throughout the world have all been very memorable, from presentations at Muir's birthplace in Scotland to an audience of 4000 at John Muir College in San Diego to small groups gathered around a Yosemite campfire. Lately, as well, I have served as a Mariposa County Supervisor, actively involved in day-to-day Yosemite area issues. There are more compromises in politics than in the arts, but what informs you as a person of the arts can also influence you in your political work.
Who or what are inspirations for your work?
Determining who the greatest influence is can be difficult. From my earliest days in acting at Eastern Nazarene College in Quincy, Massachusetts, my hometown, to graduate study at the University of Hawaii, I have had many influences from professors to acting colleagues. I have always been interested in the early absurdist plays, and also by thought-provoking books in American studies and history. Many have influenced my world and artistic viewpoints. As to what influences me, I would say the impact of the wilderness on the individual, particularly through my early experiences in Hawaii. I have always felt that the arts should express an intelligent messaging. And Muir brought that out of me.
What are your plans for the future?
Much of the same. If my Mariposa obligations permit, I hope to put pen to paper soon and create some new plays. I also produce shows for my wife on such themes as the history of American Western women. We also present plays on the experiences of John Wesley Powell and his explorations of the Colorado River and the Grand Canyon. In the political world, in addition to my county supervisor duties, I have been selected as an initial member of the Board of Directors of the Sierra Nevada Conservancy. It should be a very interesting experience in considering the future of the Sierra Nevada.
What is your favorite spot in the region? Why?
(laughs) I am going to pass on this one. I have been asked about this is the past and when I identify a place or a favorite place of mine is highlighted in a magazine, the next thing I know it has been "improved" and I have to find a new favorite spot. So, I will keep this one a secret. I guess my philosophy would echo Muir, who said that wherever you happen to be is the best spot to be.
Why do you think this region holds such a fascination for people?
It is the mountains. Since the beginning of time, mountains have held a special reverence, a power in people's hearts. There is the naked beauty, the apparent inaccessibility. We need these wild places, and the rarefied air helps us clarify our experiences. These mountains are elementary to our understanding of ourselves and our place in the world.
If you had to describe your feelings about the Sierra Nevada region in one word (or a few words), what would you say?
Heart nourishing.