Gaylord Nelson
June 4, 1916 – July 3, 2005
From The Wilderness Society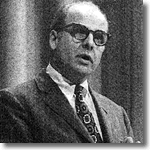 Wisconsin's Governor and Senator; Founder of Earth Day; Counselor to The Wilderness Society — Gaylord Nelson's passion for the environment led to America's fundamental laws that protect it.
In 1969, as a U.S. Senator from Wisconsin, Gaylord Nelson came up with one of the most powerful ideas of his time: Earth Day. Inspired by the teach-ins dealing with the Vietnam War, Earth Day was an instant success, drawing 20 million participants the first year (1970). American Heritage Magazine called the first Earth Day "one of the most remarkable happenings in the history of democracy." Earth Day began in 1970.

… Earth Day was an instant success …

Founded by Senator Gaylord Nelson, Earth Day is an annual event which was first celebrated on April 22 1970 by 20 million people from across the country. It's been hailed as one of the most remarkable happenings in the history of democracy.
It was Senator Nelson's intention to shine a light on the environmental concerns plaguing our nation which had been a virtual non-issue in the politics of the country. His message to us, its citizens, every Earth Day since its beginning and until his passing in 2005 was this; "As the founder of Earth Day, I believe it is a day for learning about America's national lands and their wildlife-and how we can protect them by doing a better job of saving energy. I hope you will take time to learn more about Earth Day, how to save energy and how to protect some of the most beautiful wild places in the world …."
Honors Received
Senator Nelson received hundreds of awards. Some of them include:
In 1995 he received the nation's highest civilian award: the Presidential Medal of Freedom. "As the father of Earth Day, he is the grandfather of all that grew out of that event: the Environmental Protection Act, the Clean Air Act, the Clean Water Act, the Safe Drinking Water Act," said the proclamation from President Clinton.
In 1992 the United Nations Environment Programme presented Gaylord Nelson with the Only One World Award.
In 1990 he received the Ansel Adams Conservation Award, bestowed upon a federal official who has shown exceptional commitment to the cause of conservation and the fostering of an American land ethic.
Government Service
Gaylord Nelson began his public service in 1948 as a state senator. He was re-elected three times, holding his Dane County seat for ten years. In 1958 Nelson became only the second Democrat of this century to be elected Governor of Wisconsin. After serving two terms, he was elected to the U.S. Senate. Nelson was re-elected in 1968 and 1974, serving a total of 18 years.
Major Achievements

… ahead of his time on the environmental front.

The founder of Earth Day was ahead of his time on the environmental front. In 1961 Governor Nelson created the Outdoor Recreation Acquisition Program. The goal was to acquire one million acres of Wisconsin park land, wetlands, and other open space, and it was funded by a penny-a-pack tax on cigarettes. In the U.S. Senate, he was the author of legislation to preserve the 2,100-mile Appalachian Trail corridor and to create a national hiking trails system. He sponsored or co-sponsored countless conservation bills, including the Wilderness Act and the Alaska Lands Act. In Wisconsin, his U.S. Senate legacy includes the St. Croix Wild and Scenic Riverway and the Apostle Islands National Lakeshore. Nelson also was a trailblazer in consumer protection, especially involving prescription medicines. He was one of only three Senators to vote against the $700 million appropriation that signaled the start of the ground war in Vietnam.
Wilderness Society Years
After leaving the Senate in January, 1981, Nelson continued his fight for the planet's health as counselor of The Wilderness Society. He was involved with a wide range of land preservation issues, including elimination of logging subsidies, protection of national parks, and expansion of the National Wilderness Preservation System.
Personal Background
Gaylord Nelson was born June 4, 1916, in Clear Lake, WI, and spent his childhood there. He received a BA from San Jose State College and a law degree from the University of Wisconsin. Nelson served in the U.S. Army during 46 months of World War II and was a first lieutenant during the Okinawa campaign. He and his wife Carrie Lee were featured in a chapter of Tom Brokaw's bestseller, The Greatest Generation. After the war, Nelson practiced law in Madison. He and his wife had three children and three grandchildren. He passed away on July 3, 2005.
Here is Gaylord Nelson in his own voice. (.wav)