Buried Treasure in the Sierra Nevada Foothills
by Bill Martin, Sierra College Board Trustee
This article first appeared in the Auburn Sentinel and is reprinted with their permission.
In early 1985, a 38-foot gray whale was found dead in the San Francisco Bay near Benecia. Recognizing opportunity when they saw it, a group of Sierra College students and faculty, led by Charles Dailey of the zoology department, gained control of the carcass and transported it to Dailey's property east of Lincoln where they buried it as part of preparing the skeleton for exhibition at the college.
This is typical of the initiative and energy which have gone into the development of the extensive exhibits at the Sierra College Natural History Museum, the biggest and most diverse natural history museum in the Sacramento region. You will find its collections housed primarily in the public hallways of the school's science building, Sewell Hall, and all you have to do to see it is walk in any time that the building is open. Sewell also houses the only dedicated museum classroom in any California community college, although that space must be shared with other purposes due to the growth of the college.
In 1967 Ray Underhill had a dream
Founded in 1967 by Sierra faculty member Ray Underhill, the museum contains a surprising number of distinguished exhibits. A few of them are the gray whale skeleton believed to be the largest on display anywhere; the jawbone of a California grizzly bear (which was hunted to extinction by 1922); and the fossil remains of a gomphothere (a four-tusked elephant) excavated during a Museum dig in Nevada.
The Museum states that its purpose is "to foster the study, understanding, appreciation, and conservation of nature", but it is also a setting designed to inspire curiosity and wonder in children's minds.
In its early years, funding permitted a full-time staff who sought to sponsor tours, demonstrations, and field trips which peaked at more than 30,000 visitors per year. Under later and more austere budgets, the Museum is kept vibrant by a dedicated group of volunteers, most of them Sierra College faculty members.
A must-see for children
"We have a wonderful resource that is grossly underutilized because we can't afford paid staff", according to current Sierra Science Department Chair, Dick Hilton who joined the Sierra faculty in 1981. He thinks that every local school child should visit. A limited number of tours are available on request, but the Museum does not advertise or otherwise solicit visitors since the available pool of science docents is so small. Even so, about 15,000 visitors a year find their way to this hidden treasure, and the volunteers are able to sustain a limited program of seminars, field trips and other activities.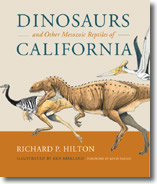 Dick is himself a distinguished vertebrate paleontologist who has turned away opportunities to join university faculties, because in his life, the first priority and principal joy is teaching undergraduate science students. He describes his recent book, "Dinosaurs and Other Mesozoic Reptiles of California" (2003, UC Press) as a "scientific coffee table book."
He loves to teach at the community college level, because it is a place where students come to find direction. In the first lecture of every course he teaches, he warns his students not to expect an easy path. "In the sciences, you've got to work hard", he tells them. "If you're not ready to work, go do something else for a while."
Visiting the Museum with my grandson
Since one of the main goals of the Museum is to introduce natural history to children, my wife, Linda, and I recently took our eight-year-old grandson, Grant, there just to see what he might learn and how he would react. We didn't try to guide his visit, but just let him wander and take it in. The first thing he said was "I like this museum." Then he noticed the seismograph and said, "This technology stuff is cool", and we talked about how it detects earthquakes. He noticed the model of the dinosaur eggs and wanted to know if they are real. He stopped to focus on the side-by-side exhibit of human and chimpanzee skeletons. He instantly noted how similar they are, and we talked about that for a while, and he thought about which one is like him. He marveled at the sizes of the gray whale skeleton and the great white shark jaw, and how easily he would fit inside them. Then he said "every skeleton in this museum used to be a real animal." He contemplated the jaguar and the bears. We donated a few dollars in the box provided for that purpose, and since he's just learning about money, we talked about how the Museum needs support from its visitors to stay open for them. That's a lot of education for a self-guided twenty minute visit.
As we drove away, I asked Grant to tell me one word that best described the Museum.
"Awesome", he said. You might take your children or grandchildren for a visit as well. It's free, and they (and you) might feel the same way.
Bill Martin can be reached at wllm61@sbcglobal.net.