Perspective
by Luseanne Raass
Sierra College student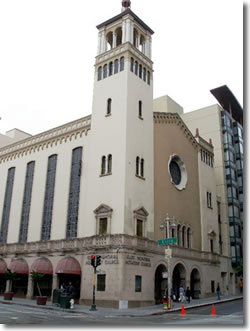 The education I have received as a student at Sierra College has been holistic, and that is the highest praise I can imagine giving to any institution. Not only did I learn of the world in my classrooms, I experienced it off campus as well thanks to the field trips offered in association with my classes.
Glide Memorial Church
Twice I have visited Glide Memorial Church in San Francisco with my classmates. This experience enabled me to see with my own eyes realities of the world that prior to this I could only ever have read about or learned of in a documentary. Prior to my visit I had heard of the all-around diversity that Glide is so well known for but I did not fully understand it until my classmates and I were actually sitting there in the balcony of the church taking it all in.
There I witnessed abounding poverty and its victims. Seeing those victims of poverty made them human. I had learned in class that poverty tends to persist because of time-honored institutions rather than being a result of laziness or some lower or underclass-inherent deficiency and it is certainly easy to dismiss the victims of poverty as those who choose their own path but seeing those people after learned what I had learned brought the message home: it made them human, just like me. I learned in class that person's sexuality is no less intrinsic to the individual than their hair or skin color. A person's sexuality is not a choice.
Making it real
Glide made real for me what my classroom could not. Its like the saying, "You had to have been there to really know what went on." That is how it is with many things in life. Partnering classroom based knowledge with perspective gained from experience fosters true learning. While it is true that we live and experience this world everyday, I would argue that we rarely really pay attention to it. So much so that we often don't even realize what is right in front us. A field trip like this, accompanied by an instructor as a guide, can allow you to see the world in a whole new way.
On both trips to Glide, I saw people come together to help one another and I felt hope, promise, and possibility for the future. These real emotions empower me today and inspire me to keep my head up when times are tough. These purposeful trips are our experiments in the world, giving us hands-on know-how; oftentimes they act as gunshots that shake the ignorance and apathy that come with being numb to reality which can prevent us from living as caring citizens of this world. Just one trip can do this, that's all it takes. I know that now thanks to this field experience from Sierra.