The Swan of Erin: The Enduring Legacy of Kate Hayes
by Gary Noy
Sierra College Center for Sierra Nevada Studies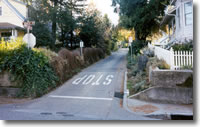 In Grass Valley, there is a little street, an alley really—named Kate Hayes Street—that leads up the hill toward the Empire Mine grounds. For many, the name means nothing today, but Kate Hayes is a well-known historic name with a remarkable story.
So … Who was Kate Hayes?
Catherine "Kate" Hayes was born in Limerick, Ireland in 1818. As a child her father abandoned the family and she was plunged into desperate poverty. As a young girl, she impressed all who heard her with her beautiful singing voice. Her reputation grew locally during her teenage years. In 1839, Kate began formal voice training. In 1844, armed with letters of introduction from her voice teacher and accompanist, she arrived in Paris. After five years of vocal study she made her debut at the Italian Opera in Marseilles in May 1845. She was a sensation.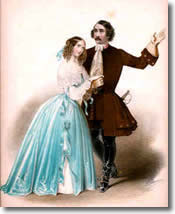 A few months later Kate performed at Milan's La Scala in 1845. The reviews were glowing. Shortly thereafter, Giuseppe Verdi, the famous operatic composer, became interested in her for one of his new operas. Her great success continued in Vienna, and also throughout Italy. Specifically, Kate became opera's most sought after Lucia di Lammermoor.
Early in 1849, Catherine signed a contract to appear at the Royal Opera at Covent Garden, in London. In June 1849, she received an invitation to sing at Buckingham Palace, for Queen Victoria and 500 guests. After an evening of Italian music, the Queen requested an encore. Catherine, with a mischievous grin it is reported, sang the beautiful Irish rebellion song, "Kathleen Mavourneen."
In November 1849, Kate's emotional return to her native country resulted in rave notices for her performances in operas and concerts in Dublin, Limerick and Cork.
Coming to America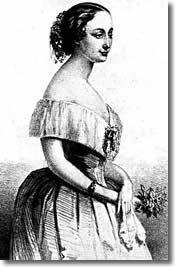 In 1851 Kate came to America, where singer Jenny Lind, the "Swedish Nightingale" was meeting with a wave of adulation. Kate achieved even greater success. Kate gave concerts in New York, Boston, Toronto, Philadelphia, and Washington D.C. She traveled south to Charleston, Savannah and New Orleans and forty-five other locations including the river towns along the Mississippi. Her performances were acclaimed. She met presidents, statesmen and business leaders along the way. During this tour, Kate was also destined to meet her future lover and husband ... Jenny Lind's former manager, William Bushnell.
Beginning in 1851, Catherine's travels took her to the California gold fields where her presence created a furor and became a favorite of the miners. The great showman P.T. Barnum sponsored her tour. She was billed as "The Swan of Erin," or "The Hibernian Prima Donna."
Cheers and Applause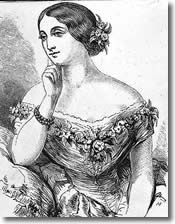 At San Francisco's American Theater in 1852, the account of her appearance was breathless: "Long and loud were the cheers and applause, which greeted her entrée," reported the Far West News. "She acknowledged again and again the enthusiastic testimonial, and again and again the audience cheered and applauded.... It was while standing at the foot-lights, amid the storm of applause, that our citizens had the first view of Miss Catherine Hayes. ... Miss Hayes is about thirty years of age. She is a graceful, queen-like person, of medium stature, with a fair oval face. Her features are regular, hair bright auburn, eyes blue, and her face wears an intellectual expression without much animation. She dresses with taste, and her manner is perfectly easy and self-possessed; her gesticulation appropriate and graceful."
Interestingly, the London Daily Express, in a recent review of a biography of Kate Hayes, wrote: "Hayes was the 'Madonna" of her day, she was the 19th-century operatic equivalent of the world's most famous pop star." Maybe in renown, but certainly not in behavior. From all accounts, Kate Hayes was not a scandalous figure like a Madonna or Kate's contemporary Lola Montez, but the dignified and elegant embodiment of the 19th century definition of feminine virtue.
In Sacramento
She was also enormously popular. In February 1853, Kate performed in Sacramento. The seats were sold at auction to the highest bidders. The highest bid was $1200 for a front row seat. In the 1850s, $250 was considered an average annual salary. The high bidder was … John Sutter, who proudly took his seat on an ornate green sofa.
Through Spring 1853, Kate performed in the Gold Country, including Nevada County. According to contemporary accounts, Kate was a visitor to many mining camps, and even tried her hand at gold panning. One of her last concerts was at the Alta Theater in Grass Valley on April 18, 1853. The Nevada Journal reported: "The voice of the [Kate Hayes] broke forth in notes of most bewitching sweetness and harmony. The excitement of the audience increased to a furious extent, no doubt with proud ratification that they had heard for once in their lives, the voice that had awakened the admiration of the western world."
The Nevada County mining communities were captivated. Soon, the name "Kate Hayes" was seemingly everywhere. There was Kate Hayes Flat, Kate Hayes Hill, the Kate Hayes Mining Company, and even a little street that lead up toward the Empire Mine grounds was named in her honor.
From Nevada County to the World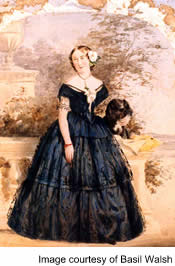 Following her Gold Country tour, Kate performed in opera and concerts in Peru and Chile, and then traveled to Hawaii where she gave a concert, before continuing on to Australia. Kate Hayes was the first great European opera star to visit Australia. She is mentioned in most Australian history books about early culture in the young colony.
She also traveled to Calcutta where she performed for the British Military. It was then on to Singapore and the island of Java before revisiting Australia for more opera and concerts.
Kate returned to London in 1856 after traveling the world. In 1857, Kate married Bushnell. And then tragedy struck. After only seven months of marriage, Bushnell died of heart failure. Kate lived only a few more years, dying from a stroke at age 42 in 1861.
Her life was short, but the memories endure. Even in a narrow Grass Valley lane.
More Images
Playbill
Concert advertisement
Playbill
La Scala
La Scala
La Scala